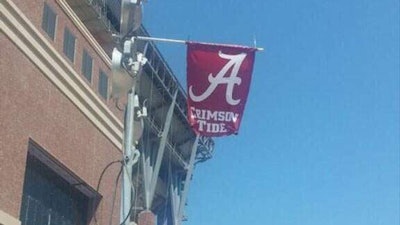 You might not yell Roll Tide and bleed crimson and white like me, but can you imagine being fired because of what school you cheer for?
One contractor in Texas can.
A crane operator working on the renovations at Texas A&M's Kyle Field was fired after hanging a University of Alabama flag from the side of the stadium. (The fan is not an Alabama grad.)
The managing contractor on the project Manhattan-Vaughn provided Outkick the Coverage with the following statement: "The individual named (Outkick hasn't published his name) had been working for a subcontractor on the project. Manhattan-Vaughn is not involved in the subcontractor's employment policies and therefore cannot comment as to why he is no longer working on the site."
Passing the blame much?
It seems a bit harsh to fire someone for showing their school spirit. Even the school's students and facility can visually support rivals. (And just to be clear, A&M has only been in the SEC for two years — they haven't had time to build that much hate for another team yet.)
Trust me, I wouldn't like someone hanging an Auburn University flag in Tuscaloosa. But there's a little thing called freedom of speech.
What do you think about this story? Would you let someone go for wearing their team's shirt or putting a logo on their truck?