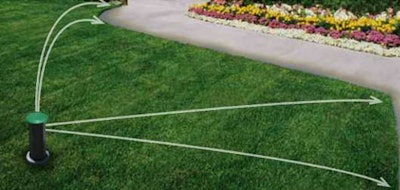 The term "smart irrigation" has become more and more important lately with several states battling drought.
To help, IrriGreen introduced a line of intelligent sprinklers that are adaptable.
The line, Genius sprinklers, can provide single programmable coverage per zone compared to multiple fixed circular patterns.
The Genius sprinkler is placed in the center of a zone and programmed to the landscape shape.
Once installed, users select a zone on the wireless handheld and use the buttons to point the water to the landscape features.
The system includes five sprinklers, 250 feet of underground pipe and one controller.
Features include:
• Can program using a wireless controller
• Easy installation
• Programmable coverage
• Adaptable/versatile
• Efficient (up to 50 percent less water used)
• Eco-Friendly: minimizes wasteful water overlap