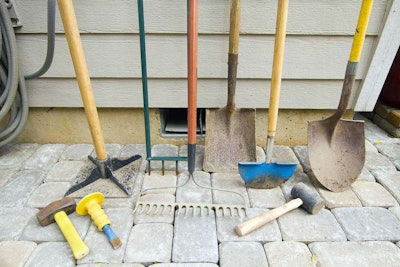 We looked at what tools a commercial landscaper can use to grow a business and discover opportunities.
Our five tools aren't the first to come to mind when you think of a landscaper but, all have functional use in the business.
Our list focuses on small but effective changes you can make right now.
1. Clean business cards
Handing a customer a clump of wet grass leaves a better impression than a dirty, wet business card that's tucked in the back of your wallet. Keep your business cards safe in the truck and don't forget that's how a customer is going to remember you after you walk away. If you really want to leave an impression, consider investing in a full color brochure that tells your story and shows your work.
2. Fuel stabilizer
Seems out of place on this list but there is no faster way to break equipment than with bad gasoline. Ethanol content in the fuel today means it can't sit for long before going bad. Always use stabilizer and consider it preventative maintenance.
RELATED: You Don't Have a Website?!
3. Internet
Build a website, use email, and embrace social sites. Suck it up and don't take pride in how little you care about technology. In fact, information and reviews about your business are probably already online so you should do a web search for your name and business. See what people are saying and take action. Without a website you'll probably have a very hard time selling your service to anyone under the age of 40. Google makes it easy for small businesses to be found by local customers in need of your service.
4. An elevator pitch
Develop a canned response that briefly tells a customer who you are, what you do and why they should care about your service. Your goal is getting them interested enough to ask you a question, so keep it short and interesting. Practice and say it with a smile.
5. A smartphone
Show off your work, grab an image of fresh cut lawn or new hardscape design. The photos will come in handy when building your website. A portfolio is a great selling tool when your customers are looking to overhaul a landscape design. With a smart phone you'll be able to manage your schedule, download landscape apps, track the weather and never get lost again with GPS.
These 5 tools are practical and just about any business owner can get started today. The growing pains associated with the technology will be tough but will pay dividends in the future.
What best practices or business tools do you use?
ProPartsDirect.net is a retailer of parts and equipment for the landscape industry.