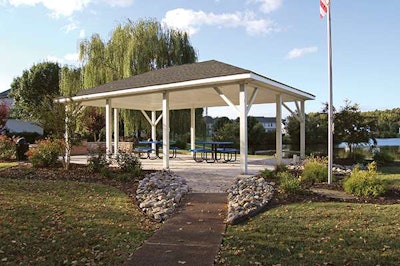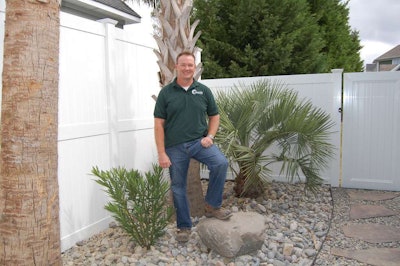 For Matt Gilligan, working with the soil is something he wanted to do a long time before he ever launched his own landscaping company. He'd worked different types of jobs – including one for a landscaper and another with dairy farm – and he realized his favorite jobs had him outdoors.
So, when it was time for the upstate New York native to attend college, he chose dual enrollment at Syracuse University and State University of New York (SUNY) College of Environmental Science and Forestry to study in the landscape architecture programs.
Upon graduation, Gilligan ignored Mother Nature's tug and took the conventional road to success, accepting a position as a landscape architect with a large firm in Washington, D.C. It didn't take long for Gilligan to become unhappy with the job, though. "I was in a cubicle for nine hours a day," he says. "I went stir crazy."
Pursuing passions
Fortunately for Gilligan, fate intervened. At a barbecue, he met his future wife, Kristen, a Virginia native who wanted to return home. The couple moved to Virginia Beach, with Gilligan taking a position with a local firm.
Although he enjoyed design work, he knew he needed to follow his passion for being outside. With Kristen's enthusiastic support, he launched Magnolia Landscape in 2007.
"Matt was so frustrated in the office," she says. "He was really unhappy, so I said, 'Start your own company.'"
The Gilligans knew launching a business would be a challenge, which would then be intensified by a struggling economy. They started by lining up mowing clients to have an income while steadily building the design side of the business. "We focused on mowing for about three years," Gilligan says.
With just a handful of employees, the Gilligans were able to slowly build a client base, and Magnolia Landscape began to take off. They would buy equipment such as zero-turn mowers, aerators and tillers as needed and were careful about what they chose.
"We'd usually pick up slightly used equipment," Gilligan says. "It would usually just need a little maintenance and care. With the economy the way it was, we didn't want to have a ton of debt, so we found deals and worked it out."
This purchasing strategy often led to innovative repurposing, particularly when it came to vehicles. They found a used Chevrolet Suburban for $4,000 that they felt would serve as an excellent work vehicle – it didn't matter to them that it served as a K-9 unit in its former life.
Landscape quickly had amassed much of the equipment they needed, without the burden of heavy debt.
Confident crews and clients
The company's workforce was added at a slower pace than the equipment, as the Gilligans were interested in bringing on people they could trust but who they also enjoyed working with.
Aaron Davies, Magnolia's senior employee, says he enjoys the outside work. "I started by working a summer for Magnolia," he says. "I found I really liked it; there's a good atmosphere here."
Davies is now experienced enough to run the mow crew, which frees up Gilligan to deal with the design side of the business, as well as being an "office guy" when needed.
"He's great at it," Gilligan says. "I let him run the crew and leave them alone. Nobody likes the boss breathing down their neck all the time."
When the Gilligans and their two daughters, 4 and 7, went on vacation, he trusted Davies to run the whole shop and supervise both the landscaping and mowing crews. He's so pleased with Davies's work and attitude that he'd like him to follow in his footsteps.
The company now has eight employees, as well as Kristen's brother, Brad, who helps out on a part-time basis when he's available.
"He's really good with lighting," Gilligan says. All of the employees love the family-friendly atmosphere, and most of them, including Gilligan, play ice hockey.
RELATED: View More of Magnolia Landscape's Project Photos
"Everyone is so friendly," says employee Scott Duke. "Yes, we work hard, but we also have fun."
Gilligan says he's ready to add more staff as needed, though. "In the first few years, we bought so much equipment. Now, we want to invest in our employees."
Although the company's scope of work has shifted to approximately 65 percent landscaping and just 35 percent mowing, attracting all of those mowing clients in the early days of the business has had a lasting effect on Magnolia Landscape.
"In my own neighborhood, we mow more than 30 houses weekly," Gilligan says. His friends and neighbors often become customers for the firm. "If they're not friends to begin with, they become friends."
A balancing act
For the Gilligans, owning a growing business and being busy parents led to taking a serious look at time management. Kristen quit her full-time position and now handles much more than just front office paperwork. She tackles estimating, makes nursery runs, meets with clients and handles the company's marketing and social media, as well.
"She's a great business partner," Gilligan says. "I didn't anticipate her helping out as much as she does. I make take-off sheets for her, and she does all the quotes. I really don't even know the prices of things anymore." Kristen also has her own side business as a freelance educational writer.
Although there's a lot of landscaping companies in the area, Gilligan's talent and qualifications have him positioned to succeed. He's able to come up with solutions to problems while still giving the customer what they want. He's particularly good in placing the right plant material to ensure long-term survival.
"A lot of people pick things that look nice now but won't do well later," he says. "I'll put in the right plants for the right place."
The company has a 60/40 mix of commercial and residential clients and works frequently with homeowner's associations and military families stationed at the nearby bases. Although the company initially worked throughout the Hampton Roads metropolitan area, Magnolia Landscape now has enough work in Virginia Beach alone to keep them busy.
The Gilligans are interested in continuing to grow Magnolia Landscape, but carefully. Currently, the company is experiencing between 20 and 25 percent growth per year, which they see as manageable. "We could grow more and be bigger, but we have to be able to maintain a high standard of quality," Gilligan says. "I think the sky's the limit."