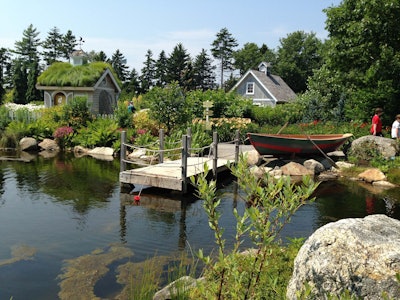 When the Coastal Maine Botanical Gardens opened in 2007, it was after 15 years of planning, planting and building by a committed core of believers.
In the seven years since, Coastal Maine Botanical Gardens has evolved into a site that includes a visitor's center, education center and several themed gardens and trails. It's now one of southern Maine's prime attractions, with reviewers on TripAdvisor giving it an excellent rating.
"We expected to get 15,000 visitors our first year and initially designed the gardens to top out at 35,000 to 40,000 visitors a year," says William Cullina, executive director. "We reached that number in our first year, so we were basically undersized from the beginning." The Boothbay-area gardens expect to see 105,000 visitors this year and now stretches across 270 acres of tidal shoreland.
Since the site has more than doubled in size from its original 128 acres, the gardens' leadership is working to create a second master plan.
"We're looking at adding another 15 to 20 acres of display gardens, a conservatory, greenhouses, boardwalks, trails and additional water features," Cullina says. Also on tap are a demonstration farm where visitors can learn about growing vegetables and a canopy tree walk.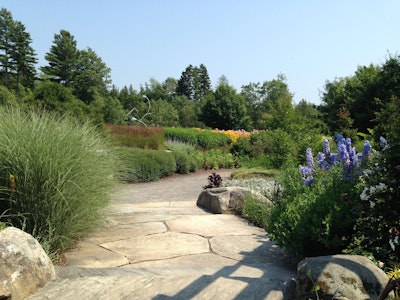 "It's quite ambitious and will involve a 15- to 20-year rollout," Cullina says. "We will need a lot of help from the landscaping community."
Depending on the size, landscape projects are either put out for bid or negotiated. For example, Jorgenson Landscaping out of nearby Bath, Maine, built the Central Gardens and have been contracted since to do stonework, grading and construct water features.
"We have stringent requirements on soil quality, minimizing soil compaction, damage to existing trees and minimizing erosion," Cullina says. The gardens' staff handles maintenance.
The Maine-based Leighton & Associates landscape architecture firm designed the gardens' first master plan, and several landscape architects have added to this initial effort, including Bruce John Riddell, ASLA and Herb Schaal, FASLA, Terrence J. DeWan Associates.
A significant part of the gardens' mission is education; for adults, that includes a certificate course in Maine native plants and ecological horticulture. A children's Little Diggers Summer Series this year teaches preschoolers about seeds, flowers, vegetables and animals.
"We operate our gardens organically," Cullina says, "using a compost-based mulch in the spring. We're hopefully providing inspiration to professionals that you don't need a huge influx of chemicals."
The gardens are financed by admission fees, private donations, foundations and government grants.
Click through the slideshow below:
[AFG_gallery id='35']
Editor's Note: Marcia Gruver Doyle is editorial director of the Construction Division of Randall-Reilly