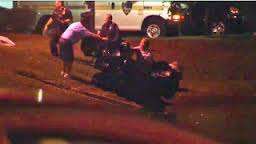 A Florida landscaper drowned after being pinned underneath a four wheeler this week.
The worker was at a local apartment complex doing maintenance work when the ATV he was riding overturned into a pond, according to News4Jax.
The ATV flipped over on top of him and landed in the water.
A coworker found the crewmember's body a few hours later.
According to ATV Safety, many deaths are caused by ATVS.
"Experienced ATV drivers (with more than one year of experience) have a much lower risk of injury than relatively new drivers," the organization says. "Training can help bridge that gap. Yet, less than 10 percent of all ATV drivers and only about one-quarter of new drivers receive professional training."
Some of the basic safety guidelines include:
Get trained
Wear a helmet
No children on adult ATVs
Don't ride tandem
Don't ride on pavement
Don't ride under the influence