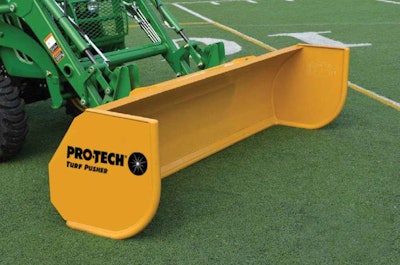 Pro-Tech Manufacturing and Distribution introduced the Turf Pusher, a containment plow designed to clear snow from turf sports fields.
The product line will help sports field managers when trying to clear snow in a safe manner.
Some of the product highlights:
Glides over turf and field covers with minimal disruption to the crumb rubber
Sideplates minimize snow spillage and decrease the need for multiple passes
Can stack snow resulting in less piles and more surface area cleared
Multiple connection types available for small track machines and tractors
No moving parts
The Turf Pusher comes in 6- and 8-foot models. The product will be available through both Pro-Tech and stocking dealers.