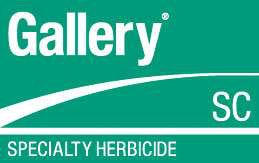 Dow AgroSciences unveiled Gallery SC, a specialty herbicide in a liquid formulation.
Available in 49 states, the suspension concentrate formula provides plant tolerance and pre-emergence control of more than 95 species of broadleaf weeds.
Gallery SC comes in 2-gallone packaging and is applied at a rate of approximately 1 quart per acre.
The 2-gallon jug will cover 8 and ¼ acres using a single container, and the herbicide is available in two package sizes – 1 quarter and 2 gallon.
Gallery SC specialty herbicide contains the active ingredient isoxaben, developed by Dow AgroSciences. It can be applied on 714 field-grown and 562 container-grown ornamentals. It bonds with soil particles and has a low water solubility, so it won't move out of the weed germination zone. Studies show that Gallery is stable on the soil surface and stays put, even in heavy rainfall.