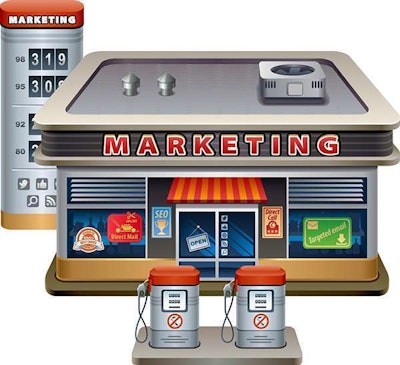 If you're about to hit the road for a long trip, one of the last things you'll do is fill your car up with gas: It's what will keep your vehicle going.
And when it comes to sustaining your business for the long haul, you'll want to make sure its tank isn't empty – or you might be left stranded.
"Marketing is quite simply the fuel for business growth," says Andrew Pototschnik, founder of Lawn Care Marketing Expert. "If your business is starting out with 10 clients and your destination is 1,000 clients, you have to keep fuel in the tank and upgrade the engine."
Marketing is "key to survival," says Steven Cohen, landscape-snow industry consultant with GreenMark Consulting Group. "Brand delivery is an essential tool, and how you deliver that message is imperative," Cohen says. "Whatever you do concerning your marketing, remember brand differentiation between yourself and your competition is what you ideally need to achieve."
But what are the best ways to market your company? And why should you focus your time and resources on it?
Many owners credit word of mouth to sustaining their business, but it takes more than that to really be successful.
"Relying only on word of mouth, aka doing nothing, is equivalent to getting out and walking," Pototschnik says. "But doing several of the right things – implementing a referral system, SEO, pay per click, advertising, EDDM (every door direct mail), email marketing, etc. – is more like filling your tank with super premium octane. Which fuel you choose depends on how quickly you want to reach your destination. Are you a race car driver or pedestrian?"
Here are tips and techniques you should follow to get the most out of your marketing efforts.
Come in first
As the saying goes in racing, "If you're not first, you're last." The same can be said for how your company shows up online.
For those still unsure about search engine optimization (SEO), it's time to get on board. Google is the No. 1 way consumers find local service providers, such as landscapers, Pototschnik says.
"Look at your own behavior and that of your friends, family and kids," he continues. "What do you do when you buy a new TV? Do you go to Best Buy to do your research, or do you go to Amazon?"
Since more potential customers are turning to the internet for service providers, you need to make sure your business is the first to pull up in a search.
"If you aren't there, you are giving business to your competitors," Pototschnik says. "It is a huge opportunity for companies savvy enough to invest in the right program."
Since you're targeting a specific service area to find clients, all of your SEO should be local.
"For instance, a landscaper in Tulsa, Oklahoma, doesn't need to bother trying to rank for 'lawn care' because the majority of those searches are not in Tulsa," Pototschnik says. "Instead, he should rank for the localized key phrase 'lawn care in Tulsa' and other variations of related phrases."
The difference, he says, is the geographic location is specified in the search and within the optimized site content.
Steady flow
Another online tool that can help give you a constant stream of business is email. If done correctly – not by buying lists or spamming people – email can help you better reach past and present customers.
"When you have a strong email marketing strategy and a solid list of existing clients and leads, there are few lower-cost ways to generate more cash," Pototschnik says. "An email marketer who knows what they are doing can send an email any day of the week and make more sales."
Nurturing relationships with existing clients is one benefit of communicating regularly through email. Current and past customers can be some of the best sources of new revenue because of the high-profit margins with additional project phases, he says.
"Add-on services are where you can have a huge percentage of your profits," Pototschnik says. "Existing and current clients have a lower cost per sale because you've already acquired them. If you have satisfied them in the past, they are more likely to buy from you again than take a risk with a new company."
For past clients who aren't currently working with you, try running a special with a "we want you back" offer, he suggests.
But remember, email is not a replacement for picking up the phone. "In this digital age, we have a tendency to avoid verbal communication and rely on instant messaging and email," Pototschnik says. "If you want to close leads or sell more, the phone is still a better way to do that."
There is a downside with the phone, however: time. Sending one "personalized" email to 1,000 customers obviously is quicker than to picking up the phone and calling all of them. "If you are a small company with 100 clients or less, I would call everyone once a month and sell," Pototschnik says. The phone is also good for closing new sales and then owners can use email after that, he adds.
Another way you can communicate with a variety of community members at once is by attending their city's Chamber of Commerce meetings, says Norman Rohfeld, with Erie Landscaping Company, Strongsville, Ohio.
"At meetings, someone may mention they need a landscaper, like for an HOA account, so we'll make them a bid," Rohfeld says. "But most of the time, they tell us that isn't necessary and just hire us because they know us."
Know your route
You need to know where you're going, whether you're driving a car or steering a business in the right direction. One part of that is knowing who your target audience is and how to best reach them. Direct mail can help you do just that.
Mailers are nothing new, with 75 percent of all marketers using direct mail, according to Joy Gendusa, founder of PostcardMania. And it's easy to see why this is such a popular tool: 65 percent of consumers have made a purchase as a result of a direct mail, she continues.
First, owners need to decide if they want to target all of the people in their service area (EDDM) or just focus on some of them (targeted mailing list). Next, it's important to design a piece that clearly conveys the company's message, resonates with the area, catches people's attention and states the benefits of the services.
But simply mailing the materials isn't enough to convert leads, Gendusa says. She shares only 2 percent of sales are made on the first contact, while 80 percent are made on the fifth to 12th contact.
And the faster that contact is made the better. If a person fills a form out on a landscaper's website requesting information and is contacted within five minutes, the close rate is more than double compared to if they are contacted in 10 or more minutes, she explains.