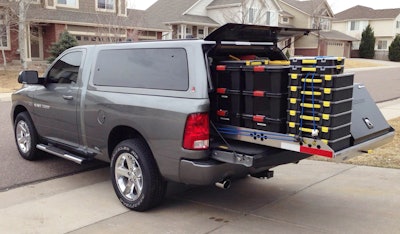 Highway Products has redesigned its 4,000-pound capacity Roller Coaster Slide-out Cargo Tray for pickup trucks.
The marine-grade, 100 percent aluminum tray holds up to 4,000 pounds, and is designed to slide cargo out of the truck.
The Roller Coaster glides on sealed roller bearings on galvanized steel Tee-Bone track system and locks into position with the dual Stab Lock locking mechanism, which enables users to lock the tray in place in 10-inch increments.
The Roller Coaster Standard and Custom Slides are designed to fit all brand and bed size trucks, vans and service bodies.