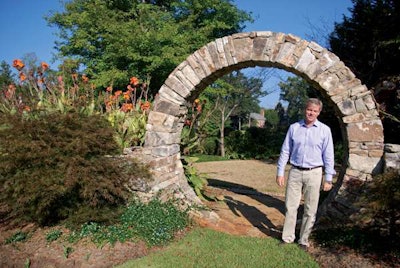 Fireplaces, outdoor kitchens and patios are more than Scott Reister's specialties – they are his passion.
A contractor at heart, Reister uses his design expertise to create stunning outdoor areas that transform backyards into the perfect gathering spots.
"We want to provide spaces people enjoy," Reister says. "We want them to feel that sense of 'sanctuary' and have a social experience. It encourages them to spend time with friends and family, and I like when people use the space."
But Reister and his business – TG&R Landscape Group in Rock Hill, South Carolina – don't only create outdoor oases. It's the group's expertise and practices that really set them apart and make them one of TLC's Landscaper of the Year finalists.
Unearth calling
An Atlanta native, Reister worked for a landscape group during high school and into college. Continuing to follow his love for the outdoors, Reister attended the University of Georgia where he earned a bachelor's degree in landscape architecture.
After graduating, he went to work for a landscaper in Rock Hill, South Carolina, who focused on land planning and design. But when the recession hit in the early 1990s, Reister decided his true calling was in landscape construction. "I had a heart for that," he says.
So, Reister and a business partner set out and created Two Guys & a Rake in 1991. "We didn't have two nickels to rub together," Reister says with a laugh. They started out offering maintenance services, but after six months, they were able to stop mowing and focus solely on design/build projects.
View TG&R's Project Photo Gallery
His business partner later left the business to pursue other interests, and Reister abbreviated the company name to TG&R.
Three years after starting the business, -Reister hired a landscape installation manager, John Hoskins, which led to more growth.
"We started getting into bigger and better projects," Reister recalls. "We were doing as much work in five days as I did in my first year of work."
With Charlotte, North Carolina, only 30 minutes from their office, TG&R has a lot of clients in the city. "Charlotte is a clean, young, progressive city," Reister says. "It's been a great city to start a business."
And like many big cities across the nation, Charlotte felt the Great Recession. When the economy took a hit, Reister took a good, hard look at his business.
"The lesson I learned was to not become complacent," Reister says. "Before the recession, we were very complacent. If you're not moving forward, you're moving backward. It's not a matter of growing in size but just being the best you can be."
They've done that by carefully choosing their services. TG&R offers landscape architecture, general contracting, irrigation, lighting, masonry, paving and plant maintenance. "We offer an all-encompassing package for our clients," Reister says.
Reister and his staff hold memberships in several regional and national groups. They are also registered landscape and contractors in North and South Carolina. "Having the general contractor license helps us with commercial projects, especially parks and streetscapes," he says.
Complete package
Putting their focus on design/build projects has helped them become experts and gain a good handle on their costs, Reister says. But understanding what clients want is just as important as having a concrete grasp on the numbers.
"We not only look at the aesthetics, but we also see how the customer will use the space – and how each feature fits into the design," he says.
One project that stands out to Reister is a hospice center where they installed garden areas for patients. "The outside was as important as the inside," he says of the project. "It's all about the patient experience. We want the healing gardens to feel like home." They added concrete birdbaths, plants and landscape lighting.
No matter the design or location, Reister says he especially enjoys conceiving the idea, watching it through implementation and then seeing the finished project.
"To be a good landscaper, you have to love it," Reister says. "I like wearing the different hats."
The company offers one-year warranties for their work. "I'd rather replace a plant than lose a customer," he says. They also offer maintenance packages, such as watering and pruning, after they finish an install.
Hiring strategy
Their biggest challenge, like many others in the industry, has been finding good employees.
"In overcoming this, we have found our greatest success is retaining the great employees we do find, and this helps us compensate for our weakness," he says. "The people we have make us successful."
After someone is hired, they are paired with an experienced worker to give them onsite training.
"When I hire someone, we'll know if they're good in a week," Reister explains. "It's more about work ethic, not skill set. We get most of them from current employee referrals."
Reister tries to find work for his 25 employees year round. "We have busy times and really busy times," he says, smiling. For masonry or tree work, Reister works with a group of subcontractors, who are viewed like employees.
Offering health insurance, creating a good work atmosphere and allowing workers to have time to focus on their families are just a few reasons they have such a high retention rate.
Words of advice
Whether he's working with clients or employees, Reister's business practices are based on the foundation of honesty.
"Be ethical upfront: Under promise and over deliver," he says. "Be honest with clients. Do what you do, and do it well.
"If we make a mistake, we try to make it right," he continues. "As a result, our No. 1 form of advertising is word of mouth."
Another aspect of that is sharing your schedule with potential clients to let them know realistic start and completion dates. "Tell them your schedule. You might lose clients, but you will have a better reputation. Bigger isn't always better.
"For us, we don't try to do everything," he says. "We focus on what we're doing and try to do it better. It's about working hard and being responsible for how you treat clients, the environment and employees."
Another factor of their success is maximizing efficiency. To get crews to the sites faster, he has fuel at the office. There's also a service mechanic who comes in each morning at 4 to repair any trucks or equipment before the crews arrive.
While Reister may be a savvy businessman, he hasn't forgotten the real reason he is in the industry.
"I'm very blessed to be in this profession," Reister says. "I love my job. The opportunity to create spaces for people to experience and enjoy is very rewarding. To create with an object that is always growing and changing is a special experience and very gratifying. My favorite part about my job is to see and know we helped create something someone will enjoy for years to come."