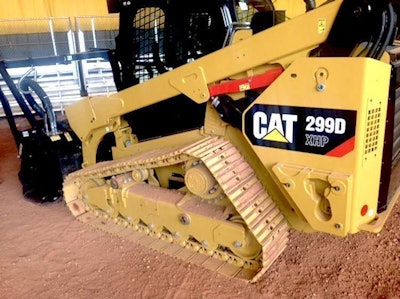 Of all the new designs Caterpillar unveiled to the press last week in Clayton, North Carolina, nothing got more second looks than the steel track undercarriage option mounted to a 299D XHP (compact track loader).
With its elevated rear drive sprocket you might almost think Cat had come out with a D1 dozer. But no, this is your basic, high-horsepower skid steer riding on an all-steel track and undercarriage.
So who needs a 110-horsepower skid steer with a clanking steel track?
Bigger is better
For the last 15 years skid steers have grown in size and power, and the 299D XHP is one of the biggest. With the bulletproof steel track option, and armed with Cat's new HM415B mulcher, it is stout enough to take on harsh, deeply wooded areas and trees up to eight inches in diameter, but its not as expensive or as massive as a dedicated forestry mulcher.
"The land management segment is growing in popularity, so that's why we're focusing on it," says Kevin Coleman, senior marketing engineer. "It was always there, but most people just dabbled in it."
According Coleman, land management includes dozens of different applications including tree removal, clearing brush, maintaining power lines and right of ways, tree plantations, hobby farms, wildfire management, park work, environmental work and a host of landscaping and land improvement jobs. Environmental regulations drive a lot of this new business as burn piles and other ecologically undesirable solutions become less popular.
Owner-operator potential
Perhaps even more intriguing for young bucks looking to make their own way in this world is that you can take this machine, add three attachments and launch a one-person owner-operator business. The machine and attachments can all fit on one trailer. Get a dually to pull it and you're ready to start making money.
How does it work? The steel track undercarriage provides sure footing in soft and uneven ground conditions and the tracks are impervious to damage from roots and rocks. To protect against the falling debris and the usual forestry hazards there's a factory-installed guarding package. A sealed and pressurized cab (found on all D series skid steers) keeps the operator comfortable for all-day operation. The cab is so well sealed, according to Coleman, that you don't need hearing protection even when running the loudest attachments. The base machine, the 299D XHP, has enough horsepower and hydraulic flow (40 gpm, 4,600 psi) to drive Cat's most aggressive attachments (aka "work tools" in Cat lingo).
Mulcher magic
And the attachments are where the magic happens, starting with company's new HM415B mulcher. The two-speed motor brings the mulching head back up to speed quickly after a heavy cut using the high-speed and low torque setting, says Dustin Adams, product service engineer. When you're ready to bite into a log, the low-speed, high-torque setting hogs out material without bogging down. The push bar on the new mulcher has also been redesigned to be adjustable. When you're dealing with a big tree you can angle the push bar out further from the cab to insure the tree falls in the direction you want it to go.
Cat also redesigned the teeth on the mulching head. They're arranged in a staggered, helical pattern so the full force of the machine transfers into just one tooth at a time, rather than a whole row of teeth simultaneously. One-bolt tooth retainers replace the old two bolt system, cutting in half the time it takes for that particular chore.
With the noise of the engine and the mulcher going full blast it can be hard for an operator to hear if the drum is running at the optimum speed. So Cat put a hydraulic pressure gauge on the mulcher that lets the operator see if the drum is running at the recommended 3,500 psi. If he sees the gauge climb up to the 4,000–4,500 psi range–even if he can't hear it–he knows to back off and take an shallower cut.
Finally, the door covering the drum can be hydraulically controlled from the cab. If you don't care about the look of the job you can leave the door open and let debris blow out. If you're in a residential setting though, you can lower the door and force all the debris straight down, mulching it to a fine consistency and creating a neatly finished, uniform surface.
Two other attachments round out the package. An industrial grapple rake enables operators to move logs, rocks and large objects. And a power box rake fluffs up mulch and materials to give you leave finished surface and uncompacted soil.
Editor's Note: Tom Jackson is the Executive Editor for sister magazine Equipment World.