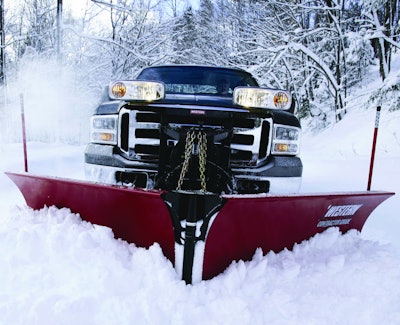 If you haven't already started getting your equipment checked out and prepared for the upcoming snow season, you should start today. For snow removal professionals, it is critical to start the season as prepared as possible.
One of the biggest mistakes that snow-and-ice-control businesses can make is waiting until the first snowfall to check that their equipment is in working order.
Pulling your snowplows, salt spreaders, and other equipment out in September to clean, inspect and service can save you money and reduce your cost of ownership. But even as October rolls along, there's still time to get things in order.
Test equipment before the snow falls
It is always best to clean, repair and service your plows and spreaders before storing them at the end of the season, but a lot of equipment just gets put away wet and dirty.
Even if you put everything away properly, things can happen during the offseason that you will want to catch sooner rather than later. For example, a contractor put away his V-plow and had a mouse get into the power unit and make a meal out of the plow harness.
When the leaves start to change, pull out your equipment, inspect it. Hook it up. Operate it.
Just as you do with your vehicles, be sure to follow recommended yearly maintenance procedures, which usually include lubrication, changing the oil, checking all the connectors, and inspecting for mechanical damage.
Closely inspect plow trucks
Don't forget to prep the pickup as well. Plowing is hard on the plows as well as on the truck.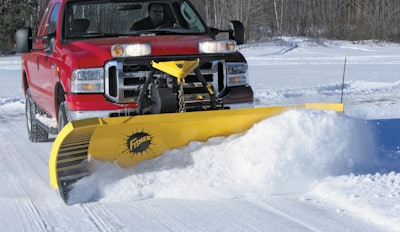 If someone backed into a wall with the spreader last season and forgot to mention it, now is the best time to find it. A bent spinner shaft can quickly go from annoying to ending your route (and income) for the night.
Take your pickup into your dealer – some have fixed-price service plans – and have it checked out. Get the oil changed.
Have the alternator and battery system checked. Service the differentials, transfer case and transmission, and inspect the suspension components. Flush the cooling system. Have them clean up the electrical connectors and repair anything that needs it.
Is your pickup ready for snow removal work? Here are some expert setup tips to help you push right through the winter.
Preventative maintenance costs money, but is still a lot cheaper than taking it to that same dealer at 3 in the morning. If you are lucky enough to have a dealer that stays open during storms, they will probably charge a premium and you will likely end up in line. It is an avoidable risk.
Be proactive: A lot of the service parts on snow removal equipment are not very expensive, especially compared to the cost of having them fail.
If there is a harness that is constantly exposed to the elements or a connector that is regularly dragged through the mud in the off-season, it is inexpensive to repair it now compared to trying to have it repaired at any point in January.
Inspect normal wear parts
In addition to following normal maintenance procedures, be vigilant about the parts that take a lot of abuse.
On plows, keep an eye on cutting edges and a-frames. If you have several years on a spreader, you will want to carefully check over the motors and bearings to make sure they function correctly.
Saltwater and liquid spray deicing materials that are currently used on the roads will do horrible things to wire harnesses and connectors.
Any mechanical connection points, such as pins, hinge pins and clevis pins are inexpensive to replace, and they are designed to wear before the brackets they're attached to wear.
As a pin starts to wear, it can lead to other problems, so you will want to replace any worn or damaged pins early.
Work with a good dealer
If you need new equipment for the upcoming season, place your orders as soon as you can. You will want to get your order placed by the time your dealer gets their first equipment shipment in rather than dealing with re-orders and having to wait on shipments and ending up crunched for time.
Dealer support is an important factor; shopping around might save some money upfront, but it's hard to put a price on the support that a local dealer can provide. Nobody wants to use their warranty, but when you need it, it's nice to have a good relationship with the dealer 15 minutes away.
EDITOR'S NOTE: This article was written by Scott Moorman, Director of Engineering, Buyers Products, (Photos by Larry Walton/Editorial Services West)