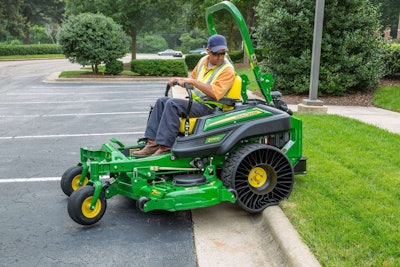 At an unveiling at Churchill Downs during the 2014 GIE+EXPO tradeshow in Louisville, Kentucky, John Deere and Michelin Tweel Technologies unveiled the Michelin X Tweel Turf for commercial ZTrak mowers.
The Michelin X Tweel Turf is an airless radial tire made for the ZTrak 900 Series models with 54-, 60- and 72-inch deck sizes.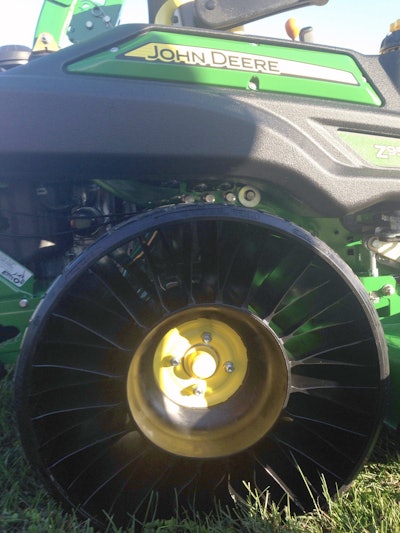 The tire helps reduce downtime for landscapers who deal with flat tires on a regular basis.
"We know several of our customers experience several flat tires a week," says Ralph Dimenna, vice president, Michelin Tweel Technologies. "For some of these customers, flat tires are a daily occurrence. Michelin Tweel eliminates these headaches."
The X Tweel Turf is a 24x12x12 tire and features automotive rubber technology, which helps the thread last longer compared to standard tires.
The first commercial Michelin X Tweel tire was introduced in October 2012 for skid steers.
"This is sold exclusively for John Deere, and unlike traditional pneumatic tires, the Tweel by Michelin virtually eliminate downtime," says Steve Wilhelmi, John Deere tractical marketing manager.
The tire will be available in the spring of 2015 and will be a $749 upcharge.
Landscapers can go to John Deere's site where they will find a calculator to help calculate savings by switching to the tweel tire.
The Tweel will be on display on John Deere's booth #1110 at GIE+EXPO.
Click through the photos below: