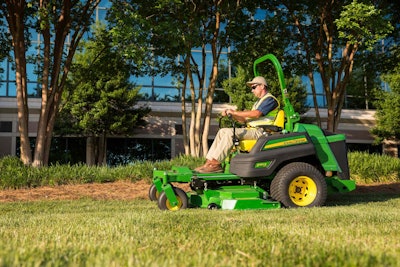 After the big release of their partnership with Michelin to offer tweel tires on their ZTrak mowers during GIE+EXPO, John Deere also introduced a new diesel mower: the Z997R.
The Z997R features a 37.4-horsepower Final Tier 4 diesel engine.
It is available with a 60-inch or 72-inch 7-Iron Pro side-discharge deck, a 60-inch 7-Iron PRO Mulch On Demand deck or a 60-inch 7-gauge fabricated rear-discharge deck.
RELATED: John Deere, Michelin Unveil X Tweel Turf Airless Radial Tire for ZTrak 900 Series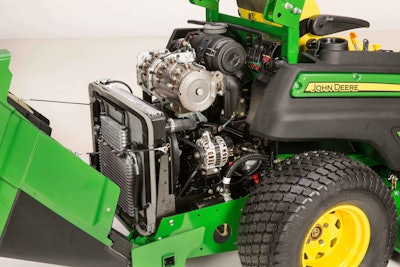 The Z997R is designed with a heavy-duty frame, features a shaft drive and has flat-free front tires.
Additionally, a new electrically powered 14-bushel hard shell dump-from-seat Material Collection System (MCS) allows the operator to accumulate material with minimized leakage.
There is also an electrically powered dump-from-seat feature.
The model comes standard with a Comfort & Convenience package, which boasts a power deck lift to reduce operator strain, ergonomically angle padded hand grips and button-in-hand PTO cutoff.
A fully adjustable suspension seat is also available for added operator comfort.
The Z997R is also B20 compatible from the factory.