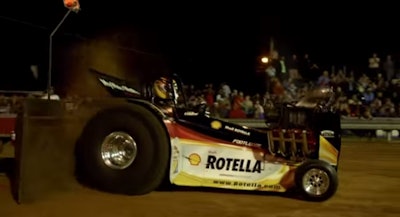 During the SEMA Show in Las Vegas this week, Shell Rotella debuted two Unsung films.
One film tells the story of how Larry Koester suffered severe injuries during a work tractor accident, and how he overcame the loss of both legs to become a multi-time tractor pulling champion.
RELATED: Shell Rotella to Shine Spotlight on Hardworking, Everyday Americans
The second film features the Bakers, a multi-generation trucking family from St. Catherines, Ontario, and their passion for the open road.
The Unsung short-form documentary series tells the stories of unsung heroes across a wide variety of industries. It shares their stories of how their work and lifestyles are intertwined.
Long Road Home: The Larry Koester story
Larry Koester is a husband, a father, and a 60-year-old champion in the sport of high-octane tractor pulling. Engines growl with more than three times the maximum power allowed by NASCAR–and 'pullers' use every tool they have to direct this extreme horsepower down the dirt track. Larry pulls his mini-modified tractor as well as, or better than, the best of them…and it just so happens he does it all without the use of the legs he lost in a farm tractor accident over 30 years ago. This is the story of how Larry got to where he is today, and how he, his wife Caesar, and their children Adam and Ashley got through one of the hardest tests of their lives.
[youtube 3WQxAiJvH10 nolink]
Baker Trucking
After years of growing up in his father's truck shop, Tommy Baker is poised to take over his father Billy's business, but Billy isn't sure if Tommy–a gifted but undrafted amateur hockey player–is right for the trucking business. With a journey from St. Catharines, Ontario to Charlotte, North Carolina, this is a story of father and son, Shell Rotella SuperRigs truck past and present, and a shared passion for life on the road.
[youtube oaWY9ZlaOj0 nolink]