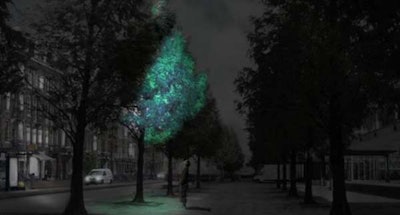 One Dutch designer is thinking outside of the box and is trying to find a way to get rid of street lamps.
Daan Roosegaarde is working on a project to transform landscapes in urban settings.
His big idea?
To replace street lamps with glowing trees.
According to RealityPod, Roosegaarde originally started working to illuminate roads with glow-in-the-dark road markings using luminescent road paint.
Through a similar concept, he's at it again, but this time applying it to trees.
By crossing DNA from bioluminescent marine life such as jellyfish, a common houseplant will begin to glow.
The designer has partnered with the State University of New York and Alexander Krichevsky to investigate further on how to make the plants glow.