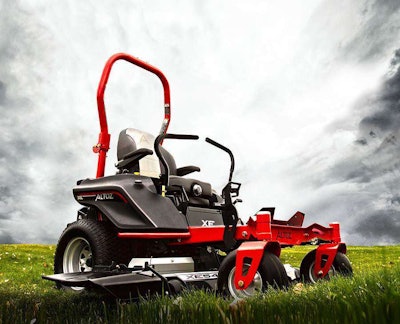 Altoz, manufacturers of high-performance commercial ZTR mowers, unveiled its latest addition to its product line with the launch of the XE series of ZTRs.
The line's three models – XE 480, XE 540 and XE 610 – are powered by a Briggs & Stratton Commercial Turf engine with electronic fuel management. Hydro-Gear 3200 commercial transmissions are featured in all three models, which are available in 48-, 54- and 61-inch cutting deck widths.
There are 22-inch rear tires, a 10-gallon fuel capacity and an optional suspension seat combine.
A complete line of accessories for the XE models will be coming soon.
Altoz also released two XC models ZTRs – XC 540 Si & XC 610 Si – which are now powered by Briggs & Stratton's Vanguard 810cc Electronic Fuel Injection (EFI) engines. The 28-horsepower engine features a closed-loop fuel injection system.
The XC models are available in 54- and 61-inch cutting deck widths, 26-inch rear tires and a 14-gallon fuel capacity.