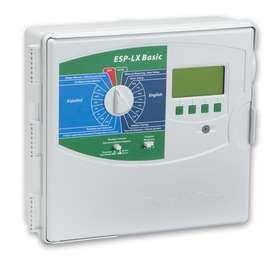 Rain Bird has introduced the latest controller to is ESP-LX Series.
The ESP-LX Basic allows landscapers to truly go back to the basics.
The controller is designed for crews that have employees who speak English and Spanish. The technology makes it possible to switch the controller's language with a turn of a dial.
For installation purposes, the controller features a locking plastic case and quick-connect terminals
The base model can control 12 stations and is expandable up to 48 by adding hot-swappable four-, eight-, and 12-station modules.
An external alarm light and on-screen messaging notifies users of conditions that could potentially disrupt controller operation.
The controller integrates Rain Bird's "Extra Simple Programming" interface, and its LCD display features softkey text labels to indicate button functions.
Operators can create four individual watering programs with eight available start times per program.
A SimulStations option allows two stations to operate at the same time.
The Cycle+Soak divides total irrigation time into shorter cycles, and Seasonal Adjust from 0 to 300 percent helps modify irrigation schedules when temperatures and precipitation amounts change throughout the year.
The ESP-LX Basic can also be outfitted with a weather sensor. After installation, weather sensors can be programmed by station to prevent or pause watering as needed in different areas of the landscape.