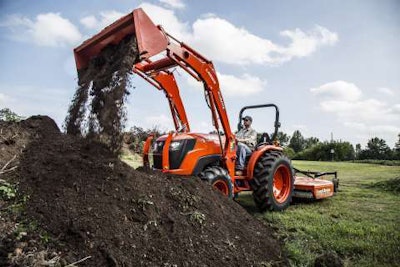 Kubota Tractor Corporation is rolling out the MX5800, the latest model in the MX-Series utility tractor line.
Featuring a four-wheel-drive HST model, the tractor delivers 61.4 gross horsepower and meets Tier 4 Final emissions standards.
Available this month, the diesel tractor includes a Kubota diesel engine.
A common rail system and diesel particulate filter deliver emissions that comply with EPA Tier 4 Final emission regulations.
The MX5800 features hydraulic servo HST systems to increase pedal responsiveness and shifting ease regardless of load size.
Additionally, the machine comes equipped with hydrostatic power steering, a touch-and-turn electric PTO switch.
Equipped with a suspension seat, the machine includes a flat deck with 30 inches of space between fenders.
The cab also includes a cup holder, behind-the-seat toolbox and an LCD dash panel. The MX5800 also features a larger fuel tank with 13.5-gallon capacity.