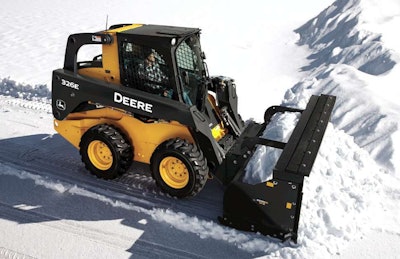 Whether operating or storing equipment during the cold season, it's important for owners to take care of their equipment.
"Preventative maintenance goes a long way to protect your investment and should be done at the beginning, as well as the end of each working season," says Gary Bryan, national warranty manager, Takeuchi. "A little bit of maintenance goes a long way in ensuring that your equipment is ready to roll once spring comes around."
Here are tips for winterizing loaders.
1. Fluids. Operators should change the fluids and lubricants to cold-tolerant products that can handle extreme conditions.
"For proper lubrication, it's important to use low-temperature grease on pivot joints," Bryan says. "Fuel and hydraulic filters, which have likely gathered moisture, dirt and debris from the summertime, will need to be replaced."
For extreme cold conditions, operators also need to change the type of oil used.
"If you're very far up north, you may want to change the oil to a higher-viscosity oil for the winter just because of the low temperatures," says Sam Norwood, manager, CWP Sales and Marketing, John Deere Construction & Forestry.
Landscapers should also fill their equipment with an anti-gel fuel before freezing conditions set in. To minimize the risk of frozen or gelled-up fuel lines, owners should check the operator's manual and use manufacturer-approved fuel additives, Bryan suggests.
2. Systems. Operators should keep a close eye on hydraulic systems and attachments.
"A loose connection could cause moisture to build up inside, potentially causing the internal components of the machine to freeze and possibly burst the hoses," Bryan says.
For comfort, owners should check the heating and defrosting systems, as well as making sure the windows are tightly sealed.
3. Tires. Tires deflate a little when going from warm to cold to freezing, so operators should make sure they stay at the proper PSI. The PSI can be found in the operator's manual.
4. Battery. Owners should check battery connections for corrosion and wear. They should also perform a load test on the battery.
"During the winter, we see batteries die because they need to generate nearly twice the amount of amps to turn over a cold engine," Bryan says.
Operators should keep an eye on the battery throughout the season as part of their preventive maintenance schedule.
"It's really hard to start a diesel engine when it's a winter like we had last year," Norwood says. "So making sure your battery is in peak condition is also key going into the winter season."
5. Storage. For those not using their equipment during the winter, they should keep the machines in a dry, dust-free area. It also helps to keep the equipment out of environments with direct sunlight, Bryan says.
"This is because constant temperature changes can cause condensation to form on the metal parts, which can then freeze and cause damage to internal components," he adds.
Before storing it for a few months, owners should wash and clean the machine. Next, it's important for them to apply an anti-corrosion protective coating to the exposed cylinder rods, Bryan says. They should also put protective covers on the air intake hose and the muffler.
Once the equipment is where it will be stored, owners need to disconnect the battery and store it in a clean, dry environment.
Tier 4 Tip: Machines with Tier 4 engines that include a diesel particulate filter (DPF) use a regeneration process to covert soot build-up in the DPT to an ash byproduct. As a result, owners will not be able to idle their machines in cold weather for long periods of time because the idling will cause the DPF to soot up and clog, Bryan says.