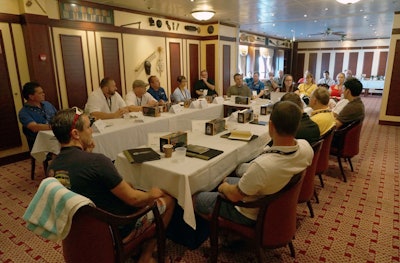 No matter how successful you are, you still have issues that affect your business.
On TLC's Landscaper of the Year cruise, the top 12 landscapers in the country shared what's made them successful and also their biggest struggles.
Here are their Top 3 industry issues.
1. Employees. Something everyone agreed upon was how hard it was to find and keep the best employees. "It's enough to pull your hair out," says Jason Tebben, co-owner of Arborscapes in Pineville, North Carolina. "Other companies are pulling for them to offer them bigger payment packages. If I could hire 20 people today, I would. But the people you find now, their work ethic is pathetic."
Some of the landscapers use visa programs, like H2B, to find employees. One says it ends up costing about $1,000 per employee hired through the program.
To combat the employee issue, they all look for ways to keep good workers when they find them. "I talk with the employees, tell them what they do good and pay them whatever I need to pay them to make them stay," says Mark Brotton, owner of Living Water Irrigation and Landscape in Santa Fe, New Mexico.
Others, like Ken Schuster, owner of Greenleaf Landscaping & Gardens in Wisconsin, started recognition programs. Schuster's employees vote each week on the top employee, and he gives that person a gift card. "It generates a lot of fellowship among the crews," he says. "They get excited about seeing who the winner is."
2. Regulations. OSHA and the Department of Transportation (DOT) regulations have also caused problems for several of the landscapers. "This is the area that is going to kill our industry," says Russ Irvin, TDH Landscaping in Monkton, Maryland.
To stay compliant, they all have the proper insurance and certifications — but that can be costly, as well. "Insurance goes up for every little thing," says Deborah Munoz-Chacon, Sonoran Oasis Landscaping in Tucson, Arizona. "How do we keep the cost down for the clients?"
They say it's important to show clients what makes them different from the competition and that they abide by the law.
3. Health Care. With the effects of Obamacare still becoming apparent, health-care reform was a major concern for the finalists.
"Obamacare is hard for owners with more than 50 employees," says Greg Struhl, owner of Chip-N-Dales Landscaping in Las Vegas, Nevada. "Even if you split the company up, you have to follow Obamacare." He says he's thought of making his company smaller so that he wouldn't have to deal with these regulations.
What are your top concerns? Comment and share the issues you deal with in your business.