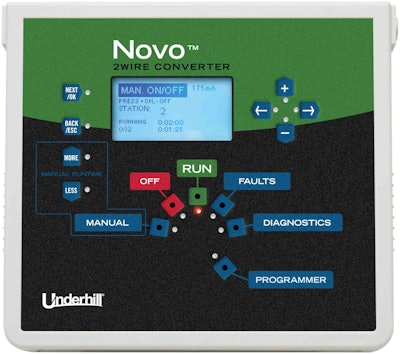 The Novo 2Wire converter from Underhill is now available with built-in testing and programming features, along with improved diagnostics.
The Novo Model W-NOV-2U has the ability to test and program field decoders and eight-station senders (used on sites with more than 32 stations). No additional wire harnesses are required.
The operator plugs in the connectors, slides the switch from "run" to "program" and can test or program a decoder or sender as needed.
The diagnostic feature avoids repeated callbacks by clearing a displayed field fault to confirm it has been resolved.
Novo is compatible with major controllers. Hunter, Rain Bird, Irritrol, Toro and other brands can be converted to a total two-wire or applied in a "hybrid" application using both two-wire and multi-wire systems.
Novo installs alongside a host controller and can handle up to 32 two-wire stations as a standard feature. It can manage up to 63 stations by using eight-station senders if the host controller has the station output capability.
The hose multi-wire controller continues to run all scheduling programs and "talks" to the two-wire valves and decoders via the converter.
The device is 6.3 inches high by 7.33 inches wide and 1.78 inches deep. It features a back-lit graphical display with LightTouch buttons and built-in electrical diagnostics/fault finding.
Plastic and stainless-steel wall mount cabinets are also available.