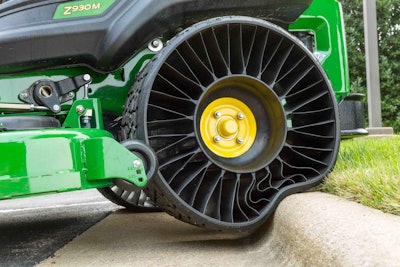 First introduced at GIE+EXPO this year for the John Deere ZTrak 900 Series, the Michelin X Tweel Turf tire is making its debut in South Carolina.
RELATED: John Deere, Michelin Unveil X Tweel Turf Airless Radial Tire for ZTrak 900 Series
Michelin announced that it will officially open its newest manufacturing plant in Piedmont, South Carolina on Nov. 20.
The plant will manufacture the Tweel tire, and it will be the first plant devoted to building the airless radial tire.
The Tweel tire has been available for select skid steers, but Michelin has partnered with John Deere to offer the tire exclusively for ZTrak 900 Series models with 54-, 60- and 72-inch deck sizes.