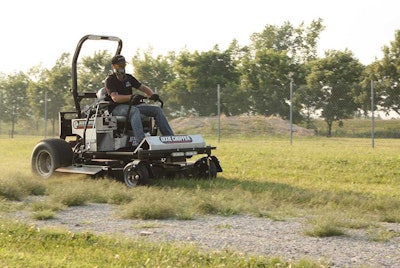 Dixie Chopper is setting world records in ways people can't imagine.
In mid August, Dixie Chopper Marketing Manager Eli Kean set the Guinness World Record for "Largest Area of Grass Mowed by a Sing-Deck Ride-On Lawn Mower in 24 Hours".
Kean set the Guinness World Record at the 2,000-acre Molly Caren Agricultural Center in London, Ohio. From noon, Aug. 19, to noon, Aug. 20, Kean continuously mowed approximately 106.14 acres, using a Kawasaki-powered Dixie Chopper XCaliber 3574.
To ensure speed and productivity, Kean had access to a second XCaliber 3574 when one mower needed to be serviced or refuelled.
In order to see throughout the night, Kean had special LED lights added to the XCalibers. Kean also had to continue through the record attempt in extreme heat and rain.
Per Guinness World Record requirements, Dixie Chopper hired two adjudicators, which had no affiliation to the company, to stay the entire 24-hour period to make sure Kean mowed using the appropriate equipment. Dixie Chopper was also required to hire a local land surveyor to measure the exact amount of acreage mowed.