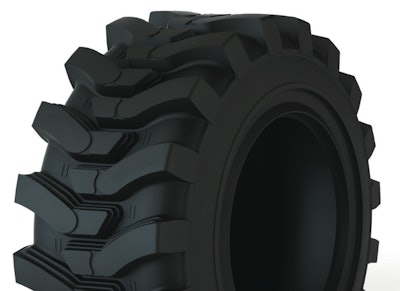 Creating more variety for skid steer operators, Camoplast Solideal introduced three tires to its Solideal SKS tire lines.
The new Premium Solideal SKS tire line-up includes:
A pneumatic skid steer tire that is set for a long life and traction in soft soils and off-road service
A severe-duty pneumatic tire designed for mixed and hard surfaces such as packed gravel and paved yards
A flat-proof solid rubber tire developed to enhance tire performance, durability and ride comfort on mixed and hard surfaces
The pneumatic tires, Solideal SKS 732 and Solideal 775, feature a reverse sidewall profile to help deflect debris away from the tire. This also serves to improve side impact resistance.
Increased tread depth and the use of a premium long-wearing rubber compound further enhance durability providing for a lower operating cost solution.
The newest solid tire solution, the Solideal SKS 793S introduces a new tread pattern and an improved aperture design that enhances ride quality without compromising the tire's strength.