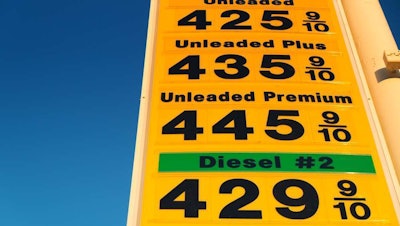 Landscapers would have to be living under a rock to not notice the marquee at gas stations today.
The word is out – gas is cheap, but for how long?
GasBuddy has forecasted what they believe will happen based on inputs and different impacts and scenarios on production, supply and demand.
What to expect from gasoline for 2015
According to their results, the average price of gas across the country in the United States stands at approximately $2.36 a gallon.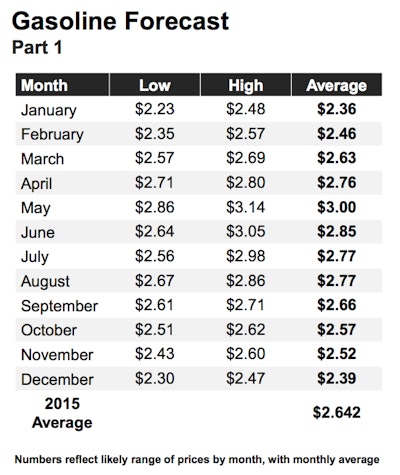 Naturally, the gas prices will begin to creep to the higher side during the warmer months. However, the good news is the highest rate, according to the group, will be an average of $3 in May with a declination of price continuing through December.
"Volatility is a given for any gasoline price forecast as unpredictable geopolitical issues arise, as well as refinery outages and problems, and weather impacts production of products, and this year, GasBuddy forecasts several periods of significant volatility," the report states.
OPEC has adopted a new attitude – cut oil prices to regain market share. According to GasBuddy, this attitude could easily change dramatically altering their forecast.
Additionally, the West Coast and Great Lakes states could see price shock if unexpected issues arise during the maintenance seasons. For instance, EPA mandated cleaner burning gasoline during the late winter and early spring, which cause an increase of 35-75 cents per gallon for users.
The United States also escaped the hurricane season during 2014, which usually brings a lot of damage to oil infrastructure.
Lastly, gasoline taxes are being evaluated in several states.
"Even the federal government may look at increasing taxes on gasoline, something it hasn't done since 1993," GasBuddy says. "Several states have already raised prices with the New Year, and several other states are identifying best methods to raise funding for road repairs – any new taxes will push prices higher than expected."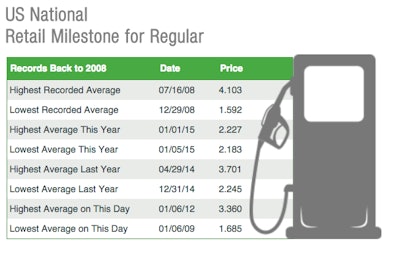 Don't forget about diesel
As for the diesel forecast, it appears to be about the same and even a little better. The average price of January will average $2.97 with a slight increase through the warmer months. However, unlike gasoline, the price looks to average lower in December at $2.82. Gasoline prices look to be up about 30 cents near the end of 2015.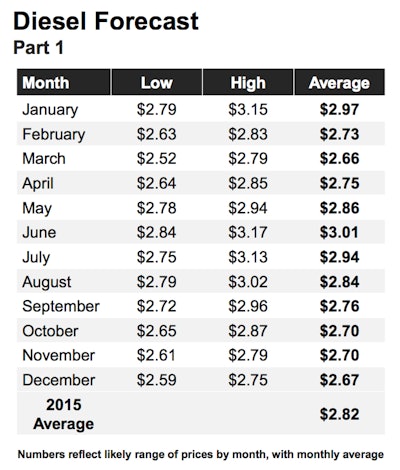 Thanks to the high-energy production from western Canada and the Permian Basin in Texas, the cost of crude has dropped and competition has tightened.
GasBuddy states North America is in a "paradigm shift" since OPEC's largest producer, Saudi Arabia, is willing to wait out the slump in crude oil prices.
Ali al-Naimi, Saudi Arabia oil minister recently stated at the Middle East Economic Survey (MEES):
"It is not in the interest of OPEC producers to cut their production, whatever the price is," he told the Middle East Economic Survey. "Whether it goes down to $60, $50, $40, $20, it is irrelevant."
According to Naimi and other Gulf oil producers, they could withstand a long period of low crude prices because production costs were so low – only about $4-$5 a barrel.
What does it all mean?
In the end, GasBuddy predicts that consumers will see fuel prices rise during the first quarter of 2015, matching previous years' trends.
The organization predicts the national price of gas will average $2.48 through the first quarter of 2015, $2.87 through Q2, $2.73 through Q3 and $2.49 through Q4.
Additionally, GasBuddy projects the U.S. average gasoline price to be $2.64, a savings of $97 billion during 2015 versus $466 billion dollars motorists paid for gasoline in 2014.
"Towards the end of 2014, the market showed bountiful supply, strong production, and not enough demand to suck up the inventory," says Allison Mac, Petroleum Analyst. "Much of these factors will carry over into 2015. Overall, prices at the pump will be lower than it has been in recent years, and once again the $2 sign will become a familiar number to see on street corners."