UTV uptime all about reading owner's manual and having a plan.
Winter wreaks havoc on the rolling stock you use for work, whether it's the truck that tows the trailer, the trailer that hauls the equipment or the equipment itself.
Landscapers typically take time to care for their trucks and equipment when it comes to regular maintenance. However, when the snow begins to fall, landscapers turn their attention to plowing snow and ice instead of transporting dirt and materials. Because of this, work hours can quickly change from dayshifts to graveyards over night. That transition sometimes leads to maintenance schedules slipping.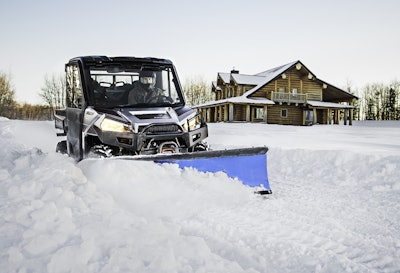 If maintenance schedules are missed, serious issues could arise, especially with utility vehicles (UTVs), also known as side-by-sides.
UTVs are designed to be a workhorse in your fleet of vehicles. They can handle dirt, mud and water, but when it comes to snow and ice, operators need to take special care. Snow and ice packed into critical areas of the machine can lead to premature part failures and poor performance.
"If the machine builds up with snow and ice, be sure to clear debris away from half shaft boots as they can be damaged from the ice and snow buildup," says Steve Schiebel, product manager, Polaris.
Clearing mud and debris from the UTV at the end of the day is one of the best routines to have in place for your crews.
"Specifically in the winter, make sure to clear snow and ice from the vehicle's rotating and moving components such as the power train, suspension systems and any attachments," says Cadence Biersdorf, product manager for Work Utility Vehicles and Attachments, John Deere. "If you're operating it with a salt spreader, be sure to clear any salt residue from the machine and attachments."
Salt and other de-icers can do serious damage to parts if left to sit for long and even short periods of time.
Many OEMs say the key to keeping UTVs running is having a plan and following the owner's manual. "A lot of times, you run the vehicle until they can't do the work," says Chris Austinson, utility products specialist, Bobcat. "Landscapers may not have a plan in place to service that equipment. Have a plan and a schedule, and follow the manual instructions as far as what you want done."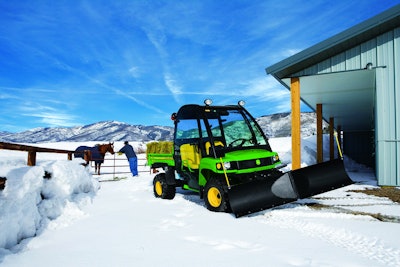 A few areas to spend extra time and attention to is the engine and drivetrain. If it's early in the morning and temperatures are less than favorable, all UTVs need to have a warm-up time. "When operating the vehicle during the winter season, it is very important to avoid repeated short-run cycles of the engine," says Jayson Lubben, tech specialist, Yamaha. "During the cold-start cycle, the fuel delivery to the engine is enriched, and during the initial warm-up phase, moisture built up inside the engine is at its maximum."
If the engine isn't allowed to reach an appropriate operating temperature, excess fuel and moisture can build inside the engine, which can lead to oil contamination or a lubrication-related engine failure. If UTVs only run repeated short-engine run cycles with no warm-up schedule, frequent oil and filter change intervals are necessary to keep the machine running properly.
"There are always horror stories of things that have happened," Austinson says. "The big thing is to have a service schedule in place like every other piece of equipment you use.
"UTVs need to be serviced from time to time, and the oil/filters need to be changed. Have a good process in place to track that and manage that for long-time use and uptime. The last thing you want to do is break down on the jobsite just when you need it the most."
EDITOR'S NOTE: TLC Editor Patty Vaughan contributed to this article.