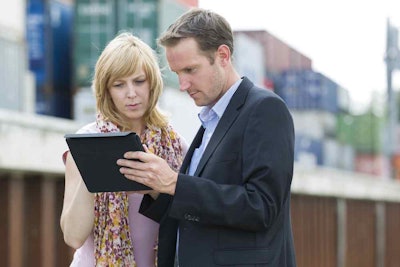 As a landscaping business, keeping your customers happy needs to be one of your primary goals. Your business will spread as quickly as possible when you have happy customers telling people about you. As a landscaper in this day and age, there are numerous pieces of technology that can help you improve customer service, run your business more efficiently and enjoy greater profits.
Here are some items to consider adding to your business:
GPS fleet tracking
GPS fleet tracking allows you to keep track of your drivers and landscaping professionals as they take care of the needs of your customers. This gives you instant information about where your trucks and vehicles are — so that you can respond to customer complaints about tardy drivers, send the closest vehicle when there is an urgent need and avoid traffic and other delays between jobs. With GPS fleet tracking, you can improve customer service with better estimated response times and handle customer complaints about late workers simply.
Tablet-based planning software
As you consider adding new landscape-planning software for your business, look for one that has an app you can take with you into the field. From your tablet, you can use the app to showcase exactly what you are envisioning in the customer's yard. Upload a picture of the property and add your planting and landscaping ideas so the customer can truly visualize what your plans will look like. The right program will help your customer make informed decisions and may even help you sell more products and services.
Mobile time tracking
Are you paying your crew by the hour, or do you want a more accurate way to know how long a particular job is taking? Mobile time-tracking programming allows your workers to clock in and out on their mobile devices, then sends that information to the cloud so you can access it whenever you need it to update payroll. With a GPS-enabled system, you can also keep your workers accountable for their whereabouts while they are clocked in.
How does mobile time tracking help customer service? This benefits the customer because of more accurate labor charges. This can also lower the cost of the job, leading to happier customers.
Mobile credit card payments
There's no denying that landscaping jobs can be costly. Customers may be willing to buy more products or services if they don't have to have cash or use a check to pay. Mobile credit card payments provide a fast, convenient way for customers to pay for the services and products you provide. This eliminates payment hassle, making customers happier, and may also allow you to sell more at the point of sale.
As you shop for a mobile credit card payment processor, you will find that you have a number of options. Many plug right into your tablet or smartphone and send payments via the 3G or 4G connection.
Mobile-equipment inventory tracking
Similar to fleet tracking, mobile-equipment inventory tracking places a tag on your mobile equipment, like your mowers and trimmers, that use GPS technology to send the location of the item to your smartphone. This helps you know where your equipment is at all times, and also helps prevent theft. If an item is stolen, you can use the GPS technology to help law enforcement officials track it down.
While this does not initially seem like a benefit to your customers, you will notice that it does improve efficiency on the job. When the equipment is loaded onto the trailer before a team heads out to the job, it is tagged and recorded by the foreman. Then, the foreman can run a quick check on the tablet or smartphone to ensure everything necessary is on the truck. This eliminates delays from when equipment is not at the job site when it is needed. When the job is done, the same process can be used to ensure every piece of equipment has been collected and stored on the trailer.
As you enter into the new year, make a commitment to improve customer service for your landscaping company. With the right technology, the improvements will come quickly.
EDITOR'S NOTE: This article was written by Robert Hall. Hall is the president of Track Your Truck.