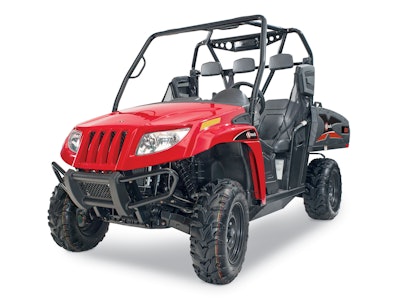 Adding to its product line, Exmark unveiled two side-by-side UTV models.
The Exmark 500S and 700S UTVs feature dual-range automatic transmission, two- and four-wheel drive, and a tilting cargo box that can transform into a flatbed.
The Continuously Variable Transmission design responds to inputs including vehicle speed, load and engine RPM in real time. The 700S adds an electric locking front differential.
The 700S features a payload capacity of 1,500 pounds, and the 500S features a 1,100 payload capacity.
The design of the tilting rear cargo box can be converted to a flatbed, and integrated front and rear two-inch receivers give operators the ability to hook up trailers or attachments to either end of the vehicles.
Both UTVs feature liquid-cooled, single-cylinder engines with electronic fuel injection.
The 700S utilizes a 695cc single overhead cam engine, while the 500S relies on a 443cc SOHC engine.
The vehicles feature four-wheel hydraulic disc brakes, and dual A-arm front and rear suspension with 10 inches of travel and 10 inches of ground clearance.