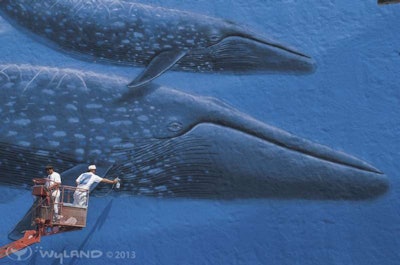 The time has come again for the Irrigation Association to start planning for its annual Irrigation Show & Education Conference.
To kick things off, Robert Wyland, an American artist known for his large outdoor murals featuring life-size whales and other sea life, will be the keynote speaker for the 2015 Irrigation Show & Education Conference slated for Nov. 9-13 at the Long Beach Convention and Entertainment Center in Long Beach, California.
The Wyland Foundation, in partnership with the U.S. Forest Service and the National Oceanographic and Atmospheric Administration, has been working to teach millions of students around the world about becoming stewards of ocean, rivers, lakes, estuaries and wetlands.
Wyland's efforts in support of the National Mayor's Challenge for Water Conservation and his ongoing partnership with The Toro Company are reshaping attitudes around the nation about the ways consumers can use water more efficiently.
Wyland will speak to show attendees about how companies can creatively connect with their customers to build awareness about water efficiency and sustainability. He will also talk about how innovative technologies and ideas offer more efficient choices.