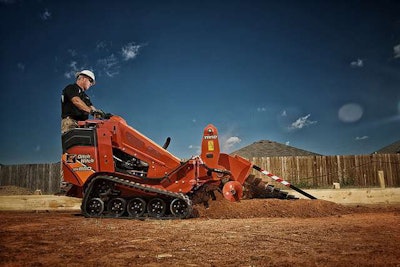 To help dig bigger trenches, Ditch Witch introduced the SK850 footings machine, which is designed to dig trenches up to 16 inches wide and up to 36 inches deep.
The SK850 features a specialized chain and a Tier 4, 37-horsepower diesel engine. The machine is designed for tight spaces and can trench from either a centerline or offset position.
With a 43-inch track, the SK850 has a footings trencher attachment that mounts on to the frame.
Features include:
A 74-square-inch platform that is larger and provides more ground clearance.
An operator's station featuring dual-lever ground drive controls and a monochrome, in-dash LCD display for engine diagnostics.
Standard auto-throttle—incorporated into the new LCD display—that reduces engine throttle when there is no load on the engine.
An auxiliary control foot pedal to help maintain hydraulic flow to the trencher, freeing the operator's hands to control depth and ground speed.