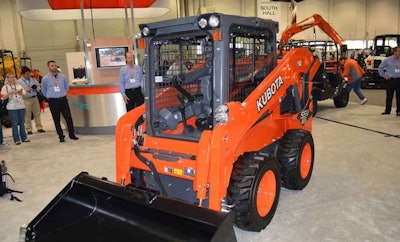 Some of the coolest cars in the world have gullwing doors. Kubota's new entries into the skid steer market have something similar, a front entry door that doesn't hinge on the side, but rather slides up and stores overhead, making ingress and egress much easier and safer.
The new skid steers were Kubota's big reveal this morning at the World of Concrete this morning. We got a glimpse of these machines last fall, but this time Kubota loaded up with details.
Kubota launched this new series with two machines: the 64 horsepower SSV65 skid steer and the 74 horsepower SSV75. As far as high-horsepower skid steers go (especially the newer models with a DPF crammed into the engine compartment) the visibility to the rear is very good. Inside the pressurized cab the sliding windows are split in the middle and can be opened separately from the front or rear. With the windows, visibility and easy-access front door, these skid steers have much less of the cramped-quarters feel of some skid steers.
Both machines are vertical lift designs, which help get the bucket closer to trucks or dump over walls and other obstacles. The specs we got didn't list bucket hinge pin heights, but Kubota says both models load trucks with 10-foot high dump bodies. Currently the SSV65 and SSV75 feature hand and foot controls. An optional multi-function lever which allows fingertip control of implement and vehicle functions will be introduced next year. Cab models come with air conditioning and the cab is radio ready with speakers, wiring and antenna as standard equipment.
Outside the cab, side lights keep your operating area, port and starboard, well illuminated. Lights in front and back round out the illumination package. A hydraulic quick coupler with self leveling allows you to pick and drop attachments without having to leave the cab.
The rear engine door swings open for unfettered access to all the service points and the fuel tank is mounted to the inside of the door for easy refueling. The four cylinder, turbocharged Kubota engines are Tier 4 final and use a diesel particulate filter as their primary emissions reduction method.
Tom Jackson is the Executive Editor for sister magazine Equipment World