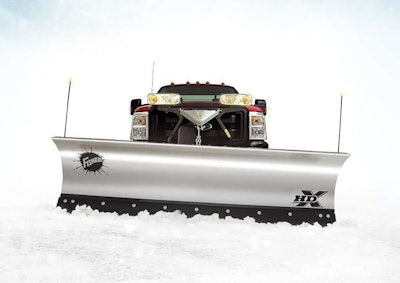 Fisher's HDX straight blade snowplow, a combo of the HD Series and XBLADE plows, will be available in April 2015.
This stainless steel snowplow has an adjustable attack angle suited to the operator's needs. It can be set to 55 degrees for unpaved or gravel surfaces and heavy snow scooping. It can be set to 75 degrees for paved surfaces, asphalt and for scraping ice and hard-packed snow. Finally, it can be set to 65 degrees for other surfaces and conditions.
The snowplow features an articulating A-frame with integrated leaf spring for the blade to be used on multiple surfaces. Other features include a stainless steel moldboard, four trip springs and eight vertical ribs. It's available in 8-foot or 9-foot blade widths.
Optional accessories include: trip-edge blade wings, back drag edge, rubber deflector, steel deflector, 36-inch blade guides, and a rubber cutting edge among other options.