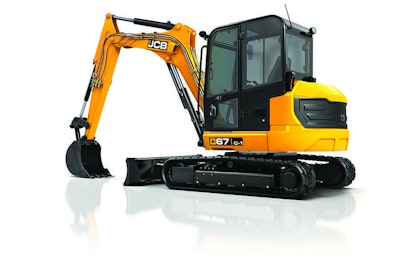 JCB's 67C-1 features several upgrades, including a revised H-design undercarriage and heating and ventilation system with optional air conditioning. The steel compact excavator was unveiled at last week's JCB Field Days in Savannah, Georgia.
The 6.7-ton conventional tail-swing excavator has a 55-horsepower Tier 4 Final Kohler diesel engine with no DPF. Maintenance needs have been addressed with 500-hour greasing intervals, a new graphite-based pin and bush design and widely spaced bearings that as part of the swing bracket design, prevent wear. Access is simplified via a 30-degree tilting cab.
The dozer blade and arms have also been redesigned. There's no requirement for a steel plate on the rear and blade edges are angled to prevent damage. An electro-hydraulic control lever operates the four-way angle adjustable dozer.
The hydraulic safety system has an additional button on the right hand console. This button must be pressed, along with the standard left hand cut-off lever, to activate the system. The 67C-1 also has a twin-locking, quick hitch system with an LED warning light on the boom to indicate it's in operation.
The dipper arm is 6 feet, 6 inches and the maximum digging depth is 13 feet, 3 inches. The ground level reach is 21 feet, 2 inches and the bucket tearout force is rated at 10,678 pounds per foot. Travel speed is 3 miles per hour, and steel, rubber and GeoGrip road liner tracks are available.
Take a look at a few more photos of the new 67C-1: