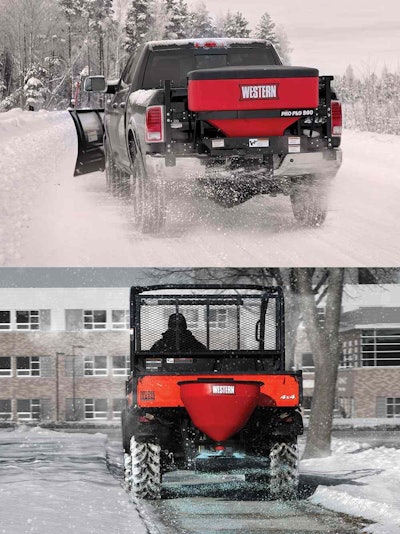 Western Products unveiled three new tailgate spreaders to their line — the Pro-Flo 900, the Pro-Flo 525 and the Low-Pro 300W — at the NTEA Work Truck Show in Indianapolis, Indiana.
The 900 and the 525 have a corrosion-free hopper for de-icing, two instant-start 12-volt electric motors and an upgraded dual variable-speed control for operations to change based on conditions. There's also an LED control, a dedicated blast button and digital self-diagnostics.
The 900 is 9 cubic feet and holds up to 720 pounds of bagged or bulk de-icing material. There's an optional 2-inch receiver hitch, 3-point hitch and pivot/GM pivot mounts. The 525 is 5.25 cubic feet and holds up to 420 pounds. The 2-inch and 3-inch mounts are standard.
The 300W is a wireless tailgate spreader with a 2-inch receiver hitch and 7-pin plug for installation without using a drill. The key fob control has two spinner speeds to match spread patterns.
The spreader has a fully enclosed 12-volt motor and holds up to 3 cubic feet of rock salt. There are optional mounts and a clear weather cover.