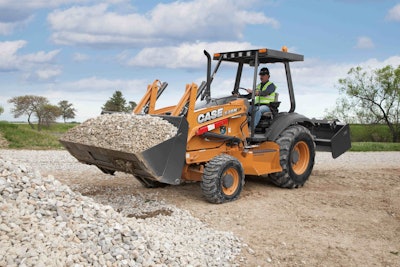 Case's 570N EP tractor loader features their particulate matter catalyst to make it a Tier 4 Final solution without the use of fluids or filter maintenance.
The 570N EP weighs 11,134 pounds and delivers 74 horsepower. It has a three-point hitch and variable hydraulics. Loader-mounted equipment hydraulics are an optional feature. There are optional hydraulic and mechanical front quick couplers for attachments.
Other options include a PTO with 30 horsepower or a PTO-ready hydraulic set up, both of which have a high-torque, low-speed axle to help with performance. There's also auxiliary work lights and a fifth-spool auxiliary circuit for the three-point hitch valve.
Operator features include a system to dampen loader arm movement and reduce spillage. The Comfort Steer only takes 1.5 turns to go from lock-to-lock. The enclosed cab is floor-to-ceiling glass and has climate control.