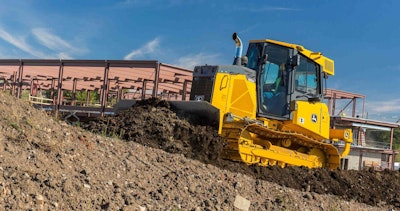 The John Deere 550K, 650K and 700K crawler dozers have been upgraded to meet Tier 4 Final emissions standards. Other features have been upgraded as well, including the electro-hydraulic control feature
A larger hydraulic pump is standard with the 550K and 650K. The motors have been upgraded to a variable displacement design for pushing power and drawbar pull.
The controls include a new blade shake feature. Pressing a button causes the blade to shake repeatedly to help shed materials such as sticky soil from the blade.
The new Eco mode automatically adjusts engine speed and transmission settings based on load. There's a ground-level courtesy lighting switch near the battery disconnect switch in the left rear service door. An optional feature is the hydraulic reversing fan.
Other specs:
550K: 4.5-liter Tier 4 Final diesel engine with 92 horsepower
650L: 4.5-liter Tier 4 Final diesel engine with 104 horsepower
700K:
6.8L Tier 4 Final diesel engine with 130 horsepower
Two additional blade size options: 126-inch on an XLT frame and a 144-inch on an LGP frame
V-cool package uses a hydraulic fan system to isolate coolers from dust and engine heat