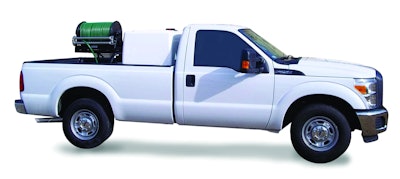 Graham's GSE 300 is a mounted skid sprayer with a Turflex fiberglass tank and has a volume of 300 gallons.
The unit has metal skid mounting and mechanical agitation. The sprayer will best fit a long wheel-base pickup. Approximately 10,000 pounds GVW is recommended.
It has an electric hose reel that's mounted curbside. The hose is 600 psi and is one-half inch by 400 feet. It has a Lesco spray gun and a 3-GPM spray nozzle. The pressure regulator, stump strainer and 10-10 pump are from John Bean.
Optional equipment includes a compartmented 300-gallon tank (110/190), a 400-gallon tank, a 400-gallon compartmented tank (110/290), or a pump, strainer or regulator from Hypro.