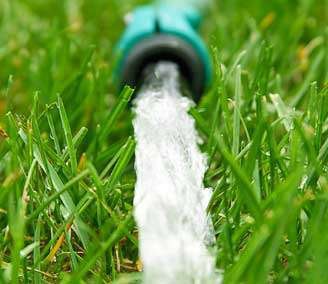 When California Governor Jerry Brown imposed mandatory water restrictions on residents, businesses and farms last week, he caused many to wonder about how to maintain their lawns. The Governor, who ordered cities and towns in the state to reduce water usage by 25 percent, suggested people move away from grass in favor of more drought-tolerant landscaping.
That doesn't mean California homeowners are stuck living with a yard full of rocks and cacti. Landscapers are recommending drought-resistant flowers, shrubs and grasses known as xeriscaping, which actually discourages the use of primarily rock and concrete. The term xeriscaping, also referred to as zeroscaping, comes from the Greek word for dry, "xeros," and "landscape."
Homeowners who embrace xeriscaping have discovered the landscape technique saves more than just water. Landscape designer Shayna Orr told MyNews4 in San Diego, "We cut their water bill by $300. It looks like we're using more water and a lot more maintenance, but, in reality, it's about half."
These savings, coupled with homeowners' growing concern about conservation and the environment, means xeriscaping is primed to become a standard design. The Texas Agricultural Extension Service has identified seven principles that, when combined into one effort, make xeriscaping unique.