What you need to know, no matter where you live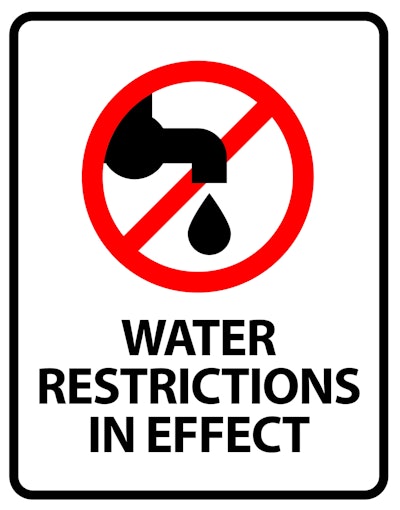 As drought conditions worsen and population centers grow, ordinances limiting water use are increasingly common. "Water restrictions are the new normal," says Warren Gorowitz, vice president of sustainability with Ewing Irrigation and Landscape Supply in Phoenix. "Our industry has an opportunity to be part of the solution by examining landscape management practices to be good stewards."
During the recent drought in California an executive order mandated that water usage be reduced by 25 percent. The directive included a turf replacement program, reduction of water use on campuses, golf courses, and cemeteries, and increased enforcement. Regional water agencies responded with a variety of landscape restrictions ranging from no outside watering during daytime hours to no landscaping for new developments.
In recent years, the Midwest and Southeast have experienced dry or drought conditions, too. "No place is exempt from drought," says Brent Mecham, industry development director with the Irrigation Association. "If there's no water, there's no water. But what you can do is ask yourself what services you can offer that people still need."
Follow these tips for thriving when water restrictions affect your business:
Design better irrigation systems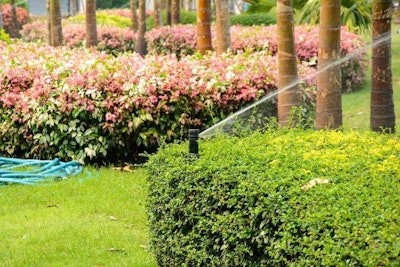 Using the newest equipment is only half the battle. For irrigation systems to work well and conserve water, follow the manufacturer's design, installation and maintenance recommendations.
"A smart controller on a dumb system will save no water," says Gail Donaldson, water conservation manager for the City of Allen, Texas. "A smart controller can't fix design mistakes such as heads that are too far apart, too many heads on a zone, or low pressure."
Other common problems include overspray and runoff, which generate fines for property owners in some parts of the country. "Typically, overspray occurs with poor design when a sprinkler doesn't fit the shape of the space," says Scott Summerfeld, registered landscape architect and water conservation representative with East Bay Municipal Utility District in Oakland, California. "Runoff is more a management issue. Learn to target what you want to water, not the sidewalk."
Update irrigation systems
Many systems are never maintained. Offer clients an upgrade by installing effective rain shutoff devices or soil moisture sensors, says Mecham. Add pressure-regulating devices so water is delivered to plants more efficiently instead of drifting away. Where appropriate, replace spray heads with drip irrigation, which usually can be run as needed as long as there is no runoff.
Check with local water agencies and utilities for irrigation rebates for homeowners and commercial properties. "There's tremendous opportunity in retrofitting equipment," says Gorowitz. "Stay informed so you can help your customer find these rebates because they may not be aware of them." During upgrades, you'll often find other needed repairs, which generate additional income.
Create sustainable landscapes
"As water becomes more precious, we have to move from a more traditional to more sustainable landscape," says Summerfeld. Start by building healthy soil. The more porous the soil, the more quickly and deeply water infiltrates so plants become more drought-resistant. Find ways to use what you have. For example, compost your own clippings and yard waste instead of taking them to a landfill.
Most importantly, choose the right plants. "Landscape the way Mother Nature would," says Donaldson. "Don't put a desert cactus in New Jersey and a lilac in Arizona." Hardy new climate-appropriate varieties are introduced every year. Stay current by talking to your local grower, joining trade associations, reading about new plants, and attending field days hosted by your local university, co-op extension service or arboretum.
It's also important to learn how much water plants need to avoid overwatering. Water when needed, not when scheduled. "Turfgrass is one of the most forgiving plants around," says Mecham. "Some varieties, such as Kentucky bluegrass, can go for quite a long time without watering." For example, in Colorado, some school districts reduce water consumption by not watering turfgrass in June and July, then resuming watering before classes begin in late summer.
Diversify your offerings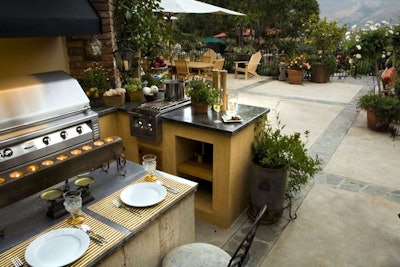 Find other ways to enhance your clients' backyards with lighting, hardscape or outdoor kitchens. As more people become interested in growing their own food, offer specialized services such as building raised beds for edibles. Learn how to install rain gardens or rain catchment systems. If there's no grass to mow, market other services such as turfgrass colorant.
Talk to other landscape companies to figure out how you can work together to your mutual benefit. If you're good at perennial installation, talk to a company that specializes in soil amendment and offer package deals. Collaboration is a way to find and promote your own specialized market niche, says Donaldson.
Keep learning
Educate yourself. Think of it like an insurance policy. Understanding how to design an efficient system and knowing how to choose drought-tolerant plants will serve you immediately, even if water restrictions never come to your area.
Set yourself above competitors by getting certified through the Irrigation Association or the National Association of Landscape Professionals (NALP). Many manufacturers, such as Rain Bird also offer classes, online tutorials, and training events.
Water restrictions are a reality, but they don't have to derail your business. "The industry is changing whether we want it to or not," says Mecham. "The more educated, specialized and service-oriented you become, the better you'll weather the storm."