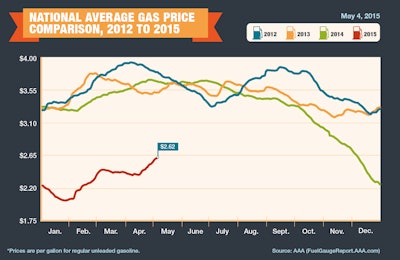 As April drew to a close, the national average price of a gallon of gasoline hit its highest point since December, according to AAA. After reaching a low of $2.03 per gallon in January, the national average on April 30 was $2.58 per gallon. At that point, the price had risen 16 days in a row – the largest increase in so short a span since 2012.
And the trend apparently hasn't slowed much in the past week: The Energy Information Administration, an arm of the U.S. Department of Energy, reported that the average price on May 4 was $2.66 for a gallon of regular. Last month, the average price of gas was $2.44 per gallon, which was the lowest monthly average since 2009.
While seasonal increases were expected with the summer travel season approaching, recent increases have been driven mainly by the price of crude oil, which has increased by more than $15 per barrel since reaching a six-year low in mid-March. Nonetheless, crude oil prices remain about $50 per barrel less than the highs reached in the summer of 2014.
Despite the recent price increases, AAA estimates drivers should still pay the lowest gas prices for the summer driving season in at least five years. "We could see record summer travel because the economy is stronger and gas prices are much cheaper than in recent years," AAA spokesman Mark Jenkins said. "Lower gas prices will make travel more affordable and this may motivate Americans to take a summer road trip."