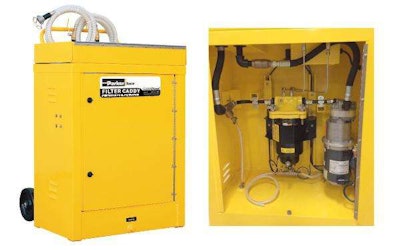 Boost equipment uptime and remove harmful contaminants with the CLEANDiesel Filter Caddy from Parker Hannifin.
Designed for generator tanks and small bulk storage tanks up to 2,000 gallons, the Filter Caddy, used to clean fuel in long-term storage in small tanks, is self-contained and portable with the ability to be moved by a single person using the built-in wheels and handle.
Suitable for use on site, the Filter Caddy has a 40 mesh basket strainer, 5-micron water coalescing filter and 6-gallon waste holding tank. Using the included wands and hoses, the Filter Caddy draws fuel from the bottom of the tank and returns the fuel to the upper portion of the tank, avoiding the formation of bacteria and rust.