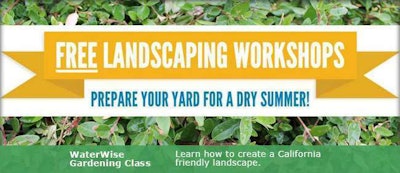 The Santa Barbara County Water Agency (SBCWA) is playing host to several free "Water Wise" workshops focused on using the principles of the watershed approach to create drought-tolerant gardens and landscapes.
The three-hour classes introduce sustainable techniques such as collecting rainwater as a resource, removing turf without chemicals, selecting the right plants, understanding your garden as a mini-watershed and managing irrigation to eliminate waste and runoff.
"The goal is to help folks learn to use water wisely," Tyrone LaFay, water conservation specialist for the SBCWA, told the Lompoc Record. "Obviously, this is our fourth year of this drought so we are trying to educate people on how to use water wisely in their landscaping."
The first of the workshops was held in Lompoc this Monday. The remaining workshops, which are being presented by the Green Gardens Group, an educational organization, will be held in Santa Barbara on May 29; Santa Maria on May 30; and Solvang on June 6. For more information on times and specific locations, visit the Water Wise website.