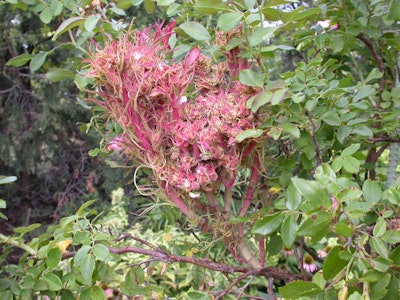 There are plenty of plant diseases out there, and while some can be treated or prevented, the worst are the ones that have no cure.
Rose rosette disease, or RRD, is a particularly nasty virus that targets only plants in the genus Rosa, according to the Missouri Botanical Garden.
Although it's regrettable that this disease is fatal, be sure to educate yourself and your clients about the symptoms of RRD. Spotting the signs early on and removing the infected plant can save you from losing the whole rose garden.
Where does it come from?
The virus is found in the wild multiflora roses, which are an invasive species that has swept across the United States and Canada. The disease is spread by grafting with a multiflora rootstock or more commonly by eriophyid mites.
The mites are able to travel through the wind and transmission generally occurs from May to mid-July. Symptoms will appear in July and August, according to Sharon Yiesla, a Plant Clinic assistant at The Morton Arboretum in Lisle, Illinois.
What are the symptoms?
The symptoms vary from species to species of rose. Red pigmentation of the leaves is a sign of new growth, but if it remains long after the other leaves have turned green, this is a symptom of RRD. Excessive thorns, thicker new stems and distorted leaves are other markers of rose rosette disease.
The most common indicator of RRD is a cluster of red, stunted leaves branching out from a cane known as a witches' broom.
Some symptoms of rose rosette disease are similar to when roses are injured by a herbicide such as glyphosate. Damage from herbicides can cause witches' broom and stunted leaves, but the disproportionate amount of thorns and red pigmentation do not occur with glyphosate.
What can I do?
As soon as you see symptoms of RRD, dig up the entire plant, including the roots. By the time signs appear, the infected rose is already at risk of spreading the disease to others nearby. A sick rose can live on for three to four years in a deteriorated state, so it is best to remove it before it actually dies.
The removed plant should be bagged and destroyed to prevent the others from being infected. The virus does not live on in the soil and the mites will die without its host, but they can live on in fallen debris.
Are there ways to prevent it?
According to the Oklahoma State University Extension Service, there are some ways to lessen the chances of your roses getting infected.
Don't use a leaf blower near roses, as you may blow mites in the area. Remove wild multiflora roses from nearby. When planting roses, consider mixing plantings to break the disease cycle, and don't crowd roses together, as it will make it more likely for the mites to crawl from one plant to another.
While there currently isn't a cure for rose rosette disease, Texas A&M AgriLife Extension, and the Grapevine Garden Club have planted 17 varieties of roses to study to see if any are resistant to the virus. Only time will tell if there is a rose species that can survive.