Earth & Turf Attachments has introduced a ballast box for compact tractors that fits both quick hitch systems and category I three-point hitches.
The Ballast Box is 24 inches wide, 20 inches high and 16.5 inches deep. Its overall height to the top link connection is 29 inches. Capacity is 4.75 cubic feet and its weight (empty) is 125 pounds.
Based in New Holland, Pennsylvania, Earth & Turf Attachments says its new ballast box was designed with several "convenience features," including four pre-drilled holes for the installation of a tool box.
The device also has tool-carrier loops to support shovels, rakes and other long-handled tools, and a weld-on hitch for towing and light lifting. The box also has drainage holes in all four corners.
Here's a suggestion for clients who value sustainability
Another Pennsylvania company, Good Ideas, offers a rain saver that may catch the eyes of clients in areas of drought or those interested in sustainable landscaping.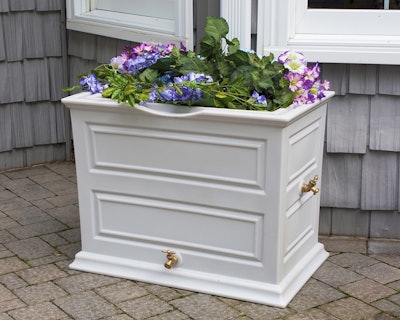 The elevated garden rain saver is designed as a planter for floral arrangements or a mini vegetable or herb garden. Holding 50 gallons, it has a simple, colonial style and is made of thick polyethylene.
Dubbed by Good Ideas as the Savannah Elevated Garden Rain Saver, the device has a 1 cubic-foot, self-draining planting space on top and two brass spigots that allow for hose hookup. The manufacturer notes that a tall bucket can be filled from the side spigot.
A meshed screen blocks debris from entering the water supply. The rain saver measures 31.5 inches by 19.5 inches by 24.25 inches and weighs 25 pounds.