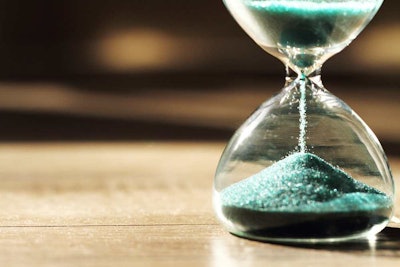 Time equals money. As cliché as it sounds, this adage is grounded in fact when you're running a business.
Time management is recognized as such an important skill that there are consultants who specialize in integrating time-management processes into companies' operations while teaching the ability to employees.
When you're running a landscaping business, there are deadlines aplenty, and customers can relay their dissatisfaction in a number of ways when you don't keep to these timelines, including subtracting from the amount they plan to pay. Even if the customer isn't affected by your company's poor time management, it can wear on both the owner and the employees.
Here are some ways you and your crews can get the most out of each day.
Prioritize
Nothing will suck away time faster than choosing to do something of lesser importance or tending to unexpected oversights.
In order to plan properly for the day, you must be able to look at the big picture and what's coming up. If all of your projects seem equally important, evaluate which one will result in negative consequences if not completed by a certain time.
Another factor to take into account is the value of each task to your company. Having crews treat all the yards they have scheduled that day is going to come before doing preventive maintenance on a piece of equipment you haven't used in a few days. The internal works shouldn't be ignored, but the customer's needs always should be taken care of first.
Delegating tasks to staff members can take some of the burdens off of your plate.
By delegating, other members of your business can feel empowered and valuable, while you can focus on more pressing matters.
Eliminate time-wasters
The procrastinator's favorite phrase, "I'll do it later," can later lead to chaos. This is when a landscaping company decides to inform crews where they are going and what they will be doing the morning of. It results in late starts, misplaced plants or tools, and an overall bad beginning for the day.
Instead, get in the habit of planning ahead. At the end of each day, the manager needs to look at today and tomorrow's assignments and paperwork. Crews should pre-load their trucks with the equipment needed for the next day's work. When crews arrive the next day, everything should be ready to go.
A good way to keep employees informed and mindful of upcoming projects so that they'll adopt your mindset of keeping things moving is to keep a visible and detailed schedule for everyone to see. Crews get frustrated when they don't know what they're supposed to be doing.
Another time-waster can come from potential clients. If your company offers complimentary consultations, a lot of these people are just looking for free advice and suggestions but have no intention of actually hiring you for the job.
One suggestion on how to handle this is to charge for the consultation, but if they decide to hire your team to do the job then the client gets this money back. That way you can still make money off your services if the customer ends up choosing another landscape contractor.
If you wish to keep offering free consultations, try to limit each meeting to a certain amount of time so you are free to meet with more serious clients as well.
Hold employees accountable
If your best-laid plans still go awry, you might need to start looking more closely to determine exactly where things are going wrong.
Time-management software can track non-billable time and may point out certain employees who are slacking off or are reporting late to work. While good workers may be hard to find, this tardiness cannot be tolerated.
The first time an employee is late, issue a warning. But if it happens again, it might warrant sending them home without pay. This can be hard to do but ignoring it, can turn it into a habit and impact your efficiency. It also sets a tone and could lead to other employees coming in late.
Another employee problem is when they aren't hitting budgeted hours. If an employee is a good worker, but it seems that he is putting projects behind the predicted completion date, show him or her the actual vs. budgeted hours. Actually, this should be reviewed periodically so that you're keeping crews up to date on how they're performing. Some companies post this information daily or even attach reward possibilities if they stay on track.
However, if all the employees are failing to meet the deadlines, it could be that you are being too ambitious with your scheduling and need to make more realistic estimates.