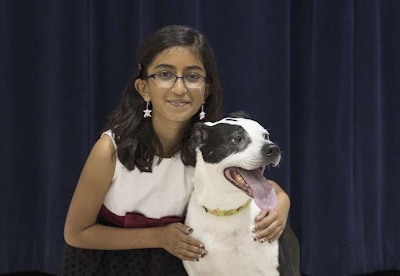 The Outdoor Power Equipment Institute's Research and Education Foundation and Scholastic have announced the winners of TurfMutt's national "Be a Backyard Superhero" contest.
Earlier this week, OPEI and Scholastic presented each of the grand prize winners a $5,000 grant to improve the yards and green spaces at their respective schools.
The K-2 grand prize winner is Ali Tomlinson of Playa Vista, California, and the grade 3-5 grand prize winner is Kashvi Ramani, of Ashburn, Virginia.
Ali attends Playa Vista Elementary school. Her entry was "Teamwork Makes The Dream Work," a story about how TurfMutt and the outdoor powers saved a neighborhood.
Kashvi attends Belmont Station Elementary school. Her entry was an original rap song, "Outdoor Saviors."
Fifty runners-up in each grade level will each receive a book from Scholastic.
"This year's contest entries were very creative," said Kris Kiser, president and chief executive officer of OPEI. "Creating stories and art helps children apply and share what they are learning.
"It's really heartwarming to see so many children want to take care of green spaces," Kiser said. "The TurfMutt program is doing a world of good for children, their families and the environment."
The annual contest is part of the TurfMutt environmental stewardship and education program in which students in grades K-5 learn how to take care of green spaces. TurfMutt and his friends, the Outdoor Powers, inspire the lesson plans, providing a fun and creative way to teach environmental and science lessons.
The cartoon-ized TurfMutt character is based on a real-life rescue dog named Lucky.
To enter the contest, students had to create an original picture using the TurfMutt character cutouts. Students wrote stories to accompany their artwork, showing how they are Backyard Superheroes and how they are combating the environmental villains Carbon Creep, Dust Demon, Dr. Runoff, and Heat Freak while working to save living landscapes.
Students in K-2 wrote stories between 25-50 words, and students in grades 3-5 wrote 100-150 word stories.
The TurfMutt environmental education program, which is funded and managed by OPEI's Research and Education Foundation, has reached 62 million students, teachers and families since 2009.
TurfMutt's focus on environmental stewardship and best practices for water use and landscape maintenance have been widely accepted among educators, youth and families as well as listed as a resource by the U.S. Department of Education's Green Ribbon Schools, the U.S. Department of Energy, the U.S. Environmental Protection Agency, Green Apple, the Center for Green Schools, the Outdoors Alliance for Kids, the National Energy Education Development (NEED) project, Climate Change Live, Petfinder and the U.S. Fish and Wildlife Service.
Here is a video of Kashvi performing her rap: