The city of Lynden, Washington, had extra reason to celebrate on July 4, as Independent We Stand and presenting sponsor Stihl came to town to recognize the 2016 "America's Main Streets" winner.
At a Fourth of July block party in the heart of downtown, the city was presented with a check for $25,000 along with several other prizes.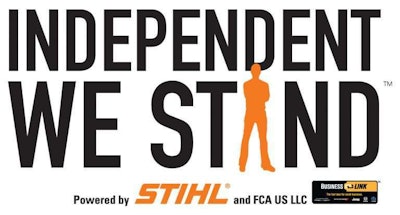 Residents were also celebrating the presentation of a Kubota tractor with a 200-gallon water tank, $1,000 in Stihl handheld outdoor power equipment, including a Stihl BGA 85 blower, $500 in gardening tools and supplies provided by Do It Best Corp., prototypes of strategic wayfinding signage for downtown Lynden, as well as $500 in paint provided by PPG Pittsburgh Paints for a 12-by-60-foot mural to be created by a local artist.
More than 150,000 votes were cast for 253 nominees in the initial phase of the 2016 Independent We Stand "America's Main Streets" contest.
Independent We Stand is a movement of independent business owners across the country that promotes the importance of "Buying Local." It's co-sponsored by Stihl Inc. and FCA US LLC.
The holiday block party included free food, live music, line dancing, giveaways and children's activities.
The $25,000 award check will double the Lynden Downtown Business Association's annual budget, helping the organization continue its work in supporting small businesses in the wake of a fire in June 2008 that destroyed the city's large downtown anchor building.