SnowEx Snow and Ice Control Equipment recently introduced its V-Pro 2000 bulk spreader, which is specifically designed to accommodate the bed dimensions of most utility vehicles (UTVs). SnowEx says the V-Pro 2000 was designed to get the job done in those applications where only a UTV can go, such as sidewalks, bike paths and driveways.
The V-Pro 2000 has a multi-angled hopper, which can carry 11 cubic feet (880 pounds) of salt or sand/salt mixture. Its design creates a natural material vortex, according to the manufacturer, enabling maximum flow from the top of the hopper to the auger, helping prevent bridging and clogging.
Its polyethylene construction boasts a number of advantages over traditional steel-built V-boxes, SnowEx says. For example, the polyethylene resists corrosion and reduces the amount of weight added to the UTV. At 280 pounds, the V-Pro 2000 can be loaded or unloaded without any special equipment.
Unlike competitors' models, SnowEx says, the V-Pro 2000 features a quick-connect spinner drive assembly, which can be removed in seconds for easy access to the hitch.
The cab-mounted dual variable-speed controller gives the operator full control over material flow and an adjustable spread pattern of up to 30 feet.
The V-Pro 2000 comes with a top screen that keeps large clumps of salt out of the hopper, and a fitted tarp. Optional accessories include a pre-wet liquid tank system.
SnowEx Snow and Ice Control Equipment is part of Douglas Dynamics. For more information on this and other equipment, visit the company's website here..
Tailgate spreader requires no hydraulics
Buyers Products, which sells snow and ice equipment as well as truck accessories, has introduced the SaltDogg Under Tailgate Spreader for trucks without central hydraulics.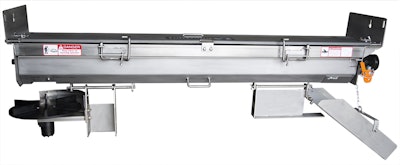 Designed for 96-inch dump bodies, the Under Tailgate Spreader (UTS) features a heavy-duty, 9-inch diameter auger with 3/8-inch flighting and auger screen, a 14-inch poly spinner and standard or center discharge.
The spreader is made with 304 stainless steel and equipped with two 12-volt, DC direct-drive motors, stainless steel dump body mounting plates, and sealed, self-aligning 1 1/4-inch diameter bearings with grease fittings.
Spreader materials can be discharged to either side of the truck – driver side for spinner and passenger side when using the optional berm chute – with a material spread of up to 40 feet.
For easy cleanout, the UTS includes an anti-flow plate, ball valve lockout, and a hinged, full-length trough.